Rumours are fuming on the air from the very moment when Google has announced that they are going to hold an event on 29th September. The speculations are that they are going to unveil the much awaited Nexus 5X and Nexus 6P on that day and by doing so they will also make the debut of brand new Android Marshmallow software.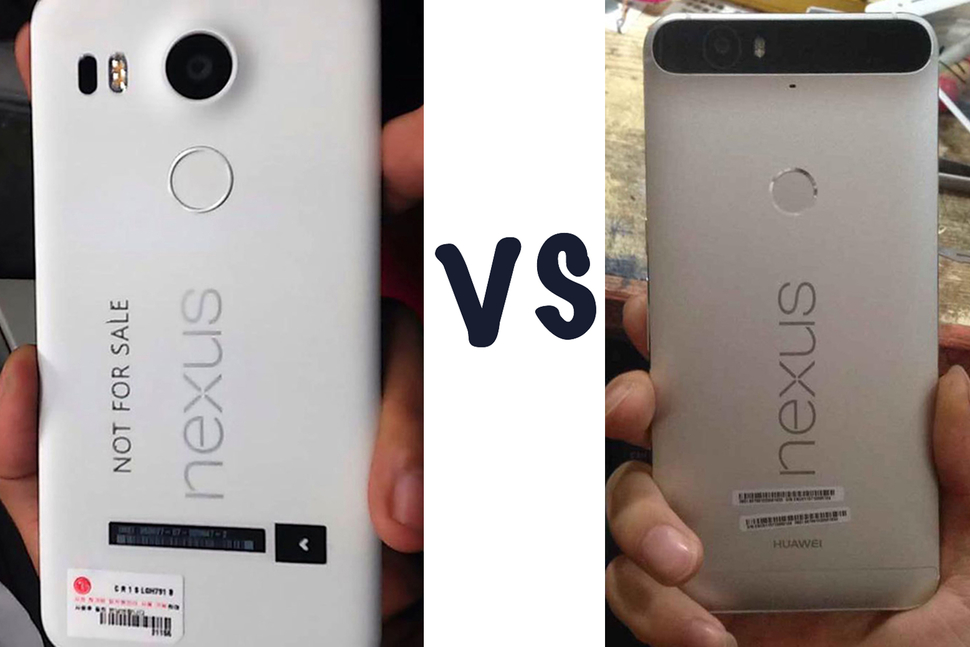 Media have spent tonnes of newsprints on these two products, speculating what could be the specifications of these two devices and take a cue from those rumours we have come to a conclusion how may these two handsets differ from each other. There may be few surprises waiting for us to reveal on the launch day but as of now and the speculations surrounding these two smartphones, these are the notable differences we get—
Nexus 5X vs. Nexus 6P: Design
Speculations are that Nexus 5X is being made by LG, and the creator of Nexus 6P is Huawei.So we can expect straight away that there will be some differences in their looks and designs.The Nexus 5X will be coming with a metal frame and plastic back, available in both white and mint colours. According to the leaked information, the dimension would be 146.9 x 72.9 x 8mm, and the thickness would be 9.8mm including the bulge of the camera on the backside.
On the other hand, Nexus 6P will come with a measurement of 159.4 x 78.3 x 6.6mm and the thickness would be 8.5 mm around the camera portion. So it is as clear as an azure sky that Nexus 6P is going to be bigger and slimmer than Nexus 5X, in terms of size and dimension. Also, it is claimed by Huawei that 6P will be featuring an all metal build plastic inserts and will be available in silver and black colour. So we can expect 6P will come into a classy and premium avatar than 5X.
Nexus 5X vs. Nexus 6P: Displays
Nexus 5X is believed to be coming with a 5.2-inch display size and with a 1080 x 1920 pixels (424 ppi pixel density) resolution.
The Nexus 6 will be larger among the two devices and is reported to be coming with a whopping 5.7-inch display and a Quad HD resolution, with the pixel density of 515ppi. This means the Nexus 6P will take the glory in terms of brighter and better resolutions and bigger screen size.
Nexus 5X vs. Nexus 6P: Camera
It is believed that Nexus 5X will come with a staggering 12 MP front camera with 4608 x 2592 pixels density and features including optical image stabilisation, phase detection autofocus, dual-LED (dual tone) flash, Geo-tagging, touch focus and face detection. 5X will also have 5MP rear camera too.
There have not been many rumours about the camera quality of Nexus 6P but as the maker Huawei has a good reputation for the camera quality so it is believed that 6P will also come with a great camera quality with loads of features.
Nexus 5X vs. Nexus 6P: Hardware
In the hardware department, both Nexus 5X and Nexus 6P will be powered by Qualcomm but with different chips. Rumour is Nexus 5X will come with Snapdragon 808 hexacore supported by 3GB of RAM.
On the other hand, Nexus 6P will be featured with Snapdragon 810 SoCalthough the RAM is still unknown.
In terms of storage, the Nexus 6P is miles ahead than the Nexus 5X as the former will come with an awestrucking128GB internal memory whereas the latter will be featured with either 16 or 32 GB.There would be no card slot in either device so it seems like the Nexus 6P could be the best option for those who need more storage.
The speculation also suggests that the Nexus 5X will come with a 2700mAh battery capacity, while the Nexus 6P  is believed to be powered with  3500mAh capacity. So Nexus 6P will provide a better battery life too than the Nexus  5X.
Difference in Software
In terms of software, the two devices should be identical so we shouldn't see any difference between the Nexus 5X and the Nexus 6P as they both are debuting the new Android 6.0 Marshmallow.This latest version of Android incorporates various features from native support for fingerprint sensors to USB Type-C support and deep support for Android Pay. There would be some improved volume controls, with access to volume return to the rocker button again, along with few smart and crisp settings, such as alarm volume remains intact while the device is on the silent mode.
There will be a feature also included to these phones, known as Peeking; the  notifications which will allow you to the notifications for each individual app. Hardware permissions will also be manageable  like you can turn off location access for Facebook if you want. A new added feature Now on Tap apparently would overtake Google Now, which would make the interactions with the device better, easier and simpler.
Conclusion
It is clearly visible that Nexus 6P is slightly edged over the Nexus 5X be it in size, display, battery, storage and other aspects. So it is expected that Nexus 6P will be more expensive than the Nexus 5X.So it is upon you how much you want to spend or how big a phone you crave for and according to that. you plan to buy a Nexus 6P or a Nexus 5X. What we can assure you that both the phone will satisfy you and fulfill your needs, rest is upon your hand.