Atlanta-based company Yupp TV, an internet based TV streaming service provider, launched their operations in India on Wednesday,14th of October at Hyderabad in the presence of Telangana's Information Technology Minister K.T. Rama Rao,cricket legend Brian Lara and famous Bollywood actress Parineeti Chopra with plans to raise 50 million (about Rs 325 crore) towards business expansion.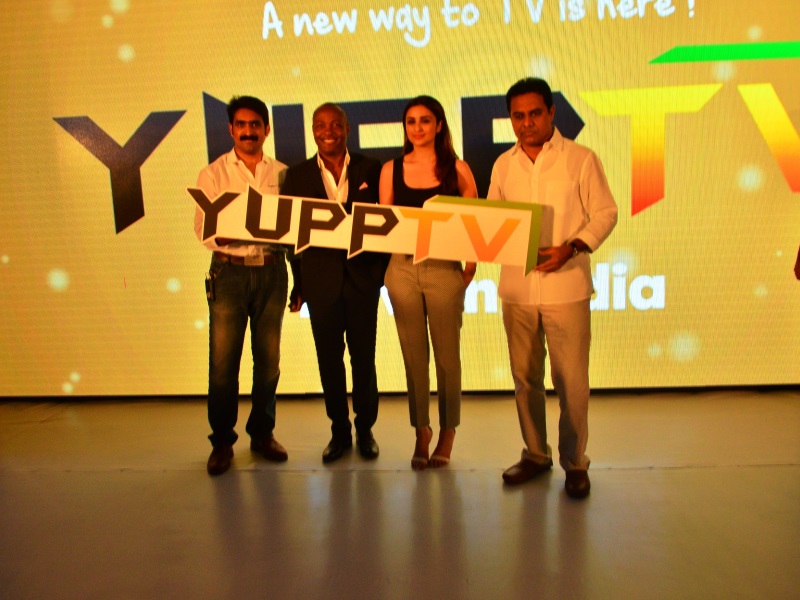 Uday Reddy, Founder and CEO of the US-based company, told the reporters here at the meet "We are planning to raise $50 million in the next three to four months as part of expansion plans,"
YuppTV, the world's largest Over-The-Top (OTT) provider for the South Asian contents enters the Indian market with 200+ channels in 12 languages and has set a target of $20 million to $30 million (roughly Rs. 130 crores to Rs. 195 crores) turnover for the current financial year. Last year company's turnover was $15 million to $16 million (roughly Rs. 98 crores to Rs. 104 crores), Mr Reddy said.
Apart from the Live TV experience without buffering that viewers enjoy, YuppTValso provides  Catch-Up TV technology for the first time in India by which viewers can watch TV content from last 7 days and never miss their favourite Shows.
Yupp TV users will also have access to more than hundreds of TV Shows and 5000 Movies on their TV at the click of a button. As part of the Video-On-Demand (VOD) service, this TV streaming service provider company has more than 25,000 hours of video content in its catalogue and 2500 hours more is adding every day.
YuppTV is bringing new dimensions in TV viewing experience for the Indian viewers by adding some unique features, the real time such as for the first time in the real-time recommendations will be offered to the viewers on most trending Live TV Channels using advanced analytics.Founded in 2006, this US based company also introduces Timeshift technology that facilitates broadcasters to provide viewers capability to pause and rewind live TV for max to 2 hours. Using this unique Start Over feature, television  showI f viewers are some television show, they can watch the same from beginning.
YuppTV service is accessible on various the internet enabled devices like   Smartphones, Smart TVs, Tablets and also on the Web. YuppTV app can be downloaded on any iOS or Android devices and has the capability to reach more than 200 million smartphone users. YuppTV App is already accessible on the majority of Smart TVs in India. Mr Reddy claimed that in spite of limited High-Speed Internet network in India his company promises to provide bufferless TV viewing experience kudos to adaptive bit rate Technology to viewers, even for 2G connections. Its network has content from Bangladesh, in terms ofPakistan  and Nepal and plans to add Spanish.
Mr Uday Reddy, Founder & CEO of YuppTV said at the launch  "Lot of good content is created but don't get the platform because there are regarding number of channels on satellite broadcast and cable. OTT wants to be technology enablers for all content providers. Our vision is to liberate entertainment, to make TV accessible to all, with a rich video viewing experience. We are breaking stereotypes, disrupting the market with OTT Technology, providing easy access to unlimited content over public internet."
 Further he added on emphasizing on the OTT technology, "YuppTV service will be a one-stop shop for all entertainment. A new way to TV is here and it will revolutionize the way Television is watched by giving the control to the user to watch TV at his convenience."
Last month, YuppTV launched it operations in Trinidad and Tobago by making a pact with the Telecommunications Services of Trinidad and Tobago, of which Brian Lara is the brand ambassador. This legendary batsman said "I feel excited to be part of YuppTV's Launch in India. I have been associated with YuppTV in Trinidad too, along with their Technology partner TSTT. With just one touch of entertainment, YuppTV is providing a phenomenal change in Trinidad with high quality internet TV service and I hope to see the same in India."
Attending the  event, the IT Minister of Telangana, Shri KT Rama Rao, welcomed and thanked  OTT player YuppTV for their service launch in India. He said, "It is a privilege to support YuppTV, a company whose 97% employee base operates from Hyderabad made to Top 100 companies of North America, getting a Red Herring award in 2015. Launch of YuppTV OTT services is in line with our vision to foster growth of Digital India. Over the past few years Technology has been changing lives and YuppTV service is one of those innovations fuelling this change."