Garmin the giant fitness, aviation and marine gadgets developer announced the most awaited successor of its Vivoactive series named "Garmin Vivoactive HR". The restyled version really looks and feels better comparing to the previous version of the Vivoactive series launched last year. The Swiss company took its smart fitness watch one step ahead in terms of features by adding some cutting-edge technology to it. This time users will be able to experience the credible Elevate optical heart rate technology of Garmin with the facility of 24/7 tracking and notification support in Garmin Vivoactive HR. let's check out the appealing Vivoactive HR features and specification and find out if it is the best watch for the fitness freaks across the world.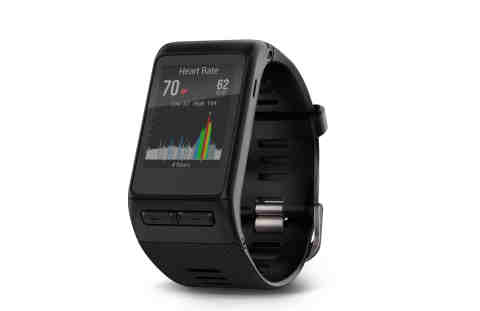 Garmin Vivoactive HR Features: Is it Exceptional?
Wearable has been stealing the limelight at Mobile World Congress since last two years. This year is no different, as Vivoactive HR with the feature of Move IQ is creating buzz all over the world after it was announced by Swiss wearable developer, Garmin. From collecting heart rate data to elevation tracking, everything is now more accurate and sleek like never before. Let's start with the most shout-after feature of Garmin Vivoactive HR "Move IQ"
How Move IQ Works?
Finally Garmin introduced its Move IQ, which has been creating lot of speculations in recent months. The Move IQ mode will automatically recognize the mode of users' fitness activity like swimming, running, walking and more. However, Fitbit fitness tracker users are already versed in with this feature and by introducing Move IQ Garmin is looking forward for match the wits.
Other Powerful Features of Garmin Vivoactive HR
Improved Display: the display of the predecessor of Vivoactive series wasn't really good and comparing to it Garmin admittedly improved the display quality of Vivoactive HR. the touch screen of it is readable in sunlight, which is extremely important when it comes to a fitness tracker. Vivoactive HR comes with the resolution of 148 x 205 pixels.
Elevation Tracking & Why is It Important? Elevation tracking is one of the rarest features that any fitness tracker or smart fitness watch has, so why is it so important to collect the daily elevation data of your activity? Whether you are taking the stairs instead of lift or slowly walking up through the steep way of hill area, it burns more calories comparing to the walk on horizontal plain. The elevation tracking facility has the ability to measure the vertical distance that you climb in your daily activity and convert it into the calorie burning calculator. Overall, the elevation sensor technology of Garmin really makes the Vivoactive HR a perfect fitness tracker.
GPS: GPS is always one of the most important features of a fitness watch and Garmin has been working on to make the smallest GPS watch ever and finally the Swiss company has succeeded, they also extended the GPS battery life on Vivoactive HR, which is 13 hours. 13 hours is really long comparing to the GPS sports watches available in the market at present.
Intriguing Garmin Vivoactive HR Specifications that Add More Charm to It
Extended Battery Life: With continuous heart rate tracking on and daily activity users can expect up to 8 days of battery life.
Touchable Bigger and Thicker Display (extraordinary sunlight readable quality)
24×7 heart rate tracking functionality.
Wrist turn detection is another important part of the Garmin Vivoactive HR specifications, it means whenever you will turn your wrist to see the stats, it will automatically turn the backlight on.
Rowing, skiing, paddle board applications
Basic swim heart rate recording facility
Users can also adjust daily step goals
Auto sleep monitoring facility, it will tell you how much you should sleep per day
Auto pause feature for runners, smart notification facility from Smartphones, such as emails, calls, texts, social networking notification and more.
Garmin Vivoactive HR Price: $249.99
Garmin Vivoactive HR Release Date (Worldwide): April, 2016
Our Verdict on Garmin Vivoactive HR
Fitness tracker's main goal is to help people live a healthier life and motivate them to do more exercise. A fitness watch must recognize the moves correctly and it should be designed for all kind of activity like swimming, jumping, running. Garmin Vivoactive HR has all these facilities and the availability of elevation sensor to it makes it more perfect for the fitness freaks out there.