Microsoft, the America based multinational technological supergiant has introduced a new note-taking app dubbed as the OneNote Importer. This newly launched tool will make it easier for note-taking app Evernote users to import their Evernote content to OneNote. A Washington based-company, Redmond has launched this OneNote importer tool which allows the users to quickly migrate all of your content from Evernote to OneNote.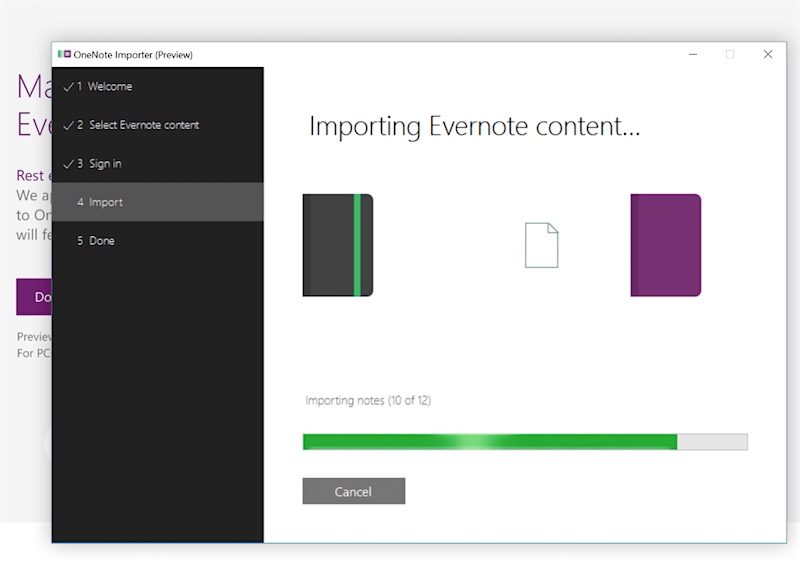 Microsoft has done a study few months ago where they noticed that EverNote fans actually love the OneNote's appeal but were hesitant to make the switch due to the fact that all their data and information reside in Evernote. The main reason behind launching this note-taking tool is to remove that barrier. The tech conglomerate posted on their blog "OneNote and Evernote have a lot in common, but we think you're going to love OneNote's standout features."
The OneNote importer tool also facilitates its users to migrate all their to-do lists and notes from Evernote and move to Microsoft's note-taking service. Also once imported, the information on their OneNote syncs across all their devices. According to the company's claim, the OneNote Importer tool is also capable of taking care of preserving the tags and right format when moving your notes from Evernote.
Microsoft confirmed that the importer tool will be available for Windows only for the initial stage and soon will be launched for Mac too. Users can download the OneNote importer for Windows from OneNote.com
If we talk about the advantages the OneNote offers to its users, the note-taking app allows a free-form canvas where users can mix text, images, handwriting, documents, video and audio. Moreover OneNote comes with free online access and unlimited monthly uploads. This famous and useful note-taking app is free on all devices and comes with Office and works perfectly with Word, Outlook, Excel and PowerPoint.
Microsoft is also trying to lure the Evernote users by incorporating various premium note-taking features. For example, OneNote offers its users unlimited monthly upload where as Evernote only allows 60MB per month to free users.  Not only that, Evernote Premium is much expensive and comes at more than 70 percent of the cost of Office 365 Personal. Moreover, unlike the Evernote users, the OneNote users can take the back up of their important emails in their notes and can digitize their business cards without spending a single penny.
Microsoft clearly mentioned the minimum system requirement to import notes from Evernote and a user must have a PC with Windows 7 or later to do that. As soon as the Evernote notes are imported, they'll sync across all devices, including Mac, iOS and Android. Microsoft also recommends that to speed up the migration process the users should have Evernote for Windows installed on their system. Users can then enter by signing in and can check that their latest notes are synced before the importing process gets started.