Five weeks after their biggest rival Apple stepped into the Chinese mobile payment market, Samsung also joined the bandwagon and has launched their very own mobile wallet service dubbed as the Samsung Pay, today, in the same country. The South Korean tech giant introduced this mobile wallet service with the collaboration of the local vendor UnionPay, the same bankcard company coupled with Apple to launch their mobile payment service, Apple Pay last month.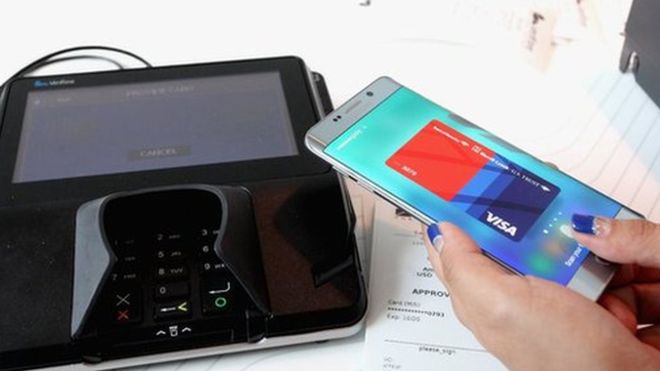 Mobile wallet is the modern day payment system which facilitates the shoppers to pay from their smartphones to pay for in-store purchases. China currently possesses the biggest and the largest smartphones market in the world and thus comes with a huge business opportunity for the various mobile-payment systems.
Samsung was planning to launch the Samsung Pay since the last year and ran a public beta test too for the last one month. For the time being this new mobile payment service will support only the flagship and the high-range devices of the company; such as Galaxy S7, Galaxy S7 Edge, Galaxy S6 Edge+ and Galaxy Note 5 but Samsung hinted that they will introduce this service in more mid-range phones in the near future, which feature the fingerprint sensor, like the Galaxy S6, Galaxy S6 Edge, A5, A7 and A9. Moreover these devices were also included in the public beta test; giving us the hope that these are not false promises.
The South-Korean company also said that the Samsung Pay will support selected credit and debit cards in the first wave. Samsung has previously claimed that the biggest advantage the Samsung Pay will offer to its customers is its technology which works with a much larger number of existing payment terminals. Currently, this mobile wallet service includes nine major banks of China including China Construction Bank, China Merchants Bank, ICBC, China CITIC Bank and China Everbright Bank.
Read Also : Galaxy S8
Samsung's attempt to get into the Chinese mobile wallet market will surely not be a cake walk. Apart from the Apple Pay, Samsung has to compete with the Alibaba's Alipay, which currently dominates the country's electronic payments market. Tencent's WeChat is another popular mobile payment system which bosses the Chinese mobile wallet market and features various interesting services like online shopping, taxi services, giving gifts and accessing in the brick and mortar store. Telecommunication powerhouse Huawei also introduced their mobile payment services last month.
Samsung Pay is currently available in the USA and South Korea. Unlike the Android Pay, Google Wallet and other payment apps, this mobile wallet service does not need to unlock the phone and launch a special app to get started. Samsung Pay is expected to hit the British market at the end of this year too.