Xiaomi's highly anticipated and heavily speculated upcoming smartphone, Mi Note 2, has come to the forefront of discussions yet again, thanks to tipsters. According to new reports, Xiaomi's Mi Note 2 will reportedly come in two variants.
The two variants of the upcoming smartphone will aim at catering to two different markets. While the Mi Note 2 was earlier anticipated to be a higher-end offering, new reports have surfaced that claim that the company will also offer a more standard alternative to it. According to a post on Chinese social networking site Weibo, the higher-end Xiaomi Mi Note 2 will pack in a Snapdragon 821 chipset that was announced in July this year. The next generation processor in the Mi Note 2 will come coupled with a whopping 6 GB of RAM and 128 GB of internal storage. The standard most devices adhere to has been 4 GB till now. This version of the upcoming smartphone will also feature a striking 5.7-inch 2K display.
The less expensive version of the Mi Note 2 will offer more standard features that include a Snapdragon 820 processor, 4 GB of RAM, and 32 GB internal storage. The same source claims that both the models will come with a dual-edge display in the manner of the Samsung Galaxy Note 7. However, it is to be kept in mind that the veracity of the post has not been confirmed, leaving a large room for doubt over the claims that it makes.
There is also a bunch of speculation surrounding when the Mi Note 2 will be launched by Xiaomi. But it looks like the two smartphones are likely to see a September release. But while one source claims that September 14 will be the much-awaited date, another cites a poster that has the term "9.24" written on it, hinting at the possibility of a later release on September 24.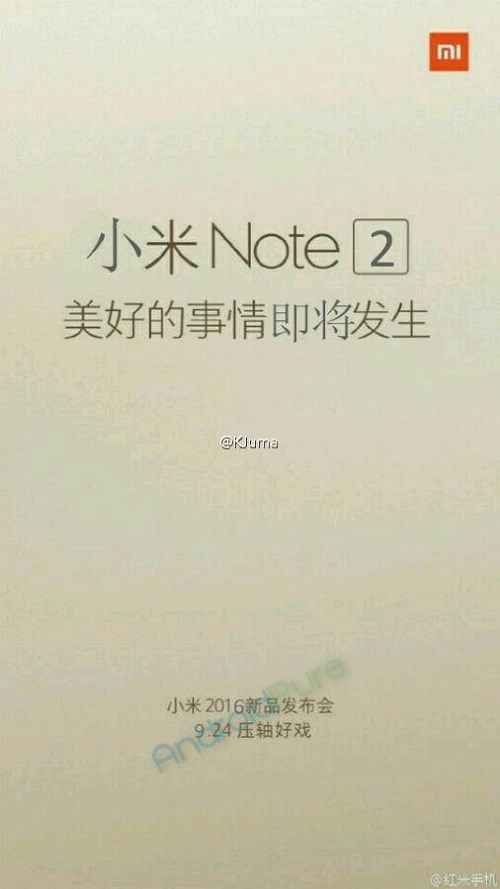 The Mi Note 2 is speculated to be priced at around 2,999 Yuan, or INR 29,800 (approx).