AMD has been in the headlines for quite a long while for the new graphics cards that the company has been belting out in the market. Latest reports reveal that AMD will be launching Radeon Instinct GPUs in order to establish a strong foothold in the market of the graphics cards which support artificial intelligence and deep learning technology.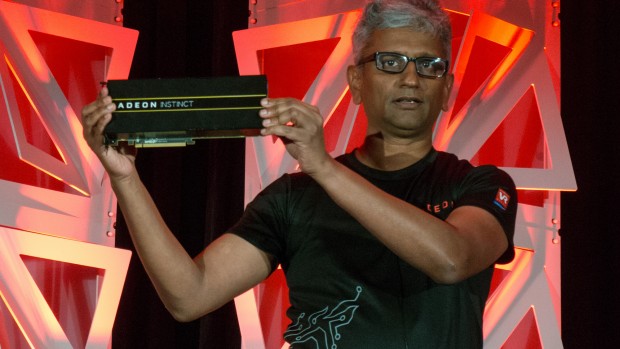 AMD is looking to make a name in the market of the new generation graphics card where its competitors have already made good progress. But with the new releases lined up in the AMD Radeon Instinct series, it is expected that they will be able to give a strong competition to Intel and NVIDIA. The three products that are reportedly lined up to be released in a short while are MI6, MI8 and MI25 Vega with NCU.
The reports have suggested that the manufacturers are looking forward to releasing the MI6 and MI8 ahead of the MI25 Vega NCU and get feedback regarding the products in the AMD Radeon Instinct series. Once these two get good feedback from the users they would be looking to bring out in the market the advanced version of the series.
The MI6 will be manufactured with the Polaris and is clocked at a lower rate; it is expected to be one of the better  ones that have been prevailing in the market. It will provide a memory bandwidth of 224 Gbps and consume a power up to 150 watts. The MI6 is 5.7 teraflops while the second one MI8 is of 8.2 teraflops. It will be coming with a memory bandwidth of 512 Gbps and has a power consuming capacity of 175 watts.
The third one in the series which is expected to be the most efficient of the three, the MI25 Vega with NCU, will be coming with the power consuming capacity of 300 watts. Nothing much has been revealed by AMD regarding this graphics card in the Radeon Instinct series. So there has been no information available regarding the teraflop rating of this graphics card as the reports from PCWorld suggest.
When this series of graphics card is coming has not been confirmed by AMD. So the speculations must go on regarding the release dates of the AMD Radeon Instinct GPUs. But one thing is for sure that this new series of graphics card will enable AMD to compete with the likes of Intel and NVIDIA who are front runners in the field of artificial intelligence and deep learning enabled graphics cards.