Chinese smartphone manufacturers Xiaomi have been one of the most promises smartphone concerns in the recent times with their feature-rich devices at affordable prices serving as a boon for quite a considerable number of consumers in the market. Now, post the success of the Mi 5 and its variants, the premise surrounding the device's successor, the Mi 6 has been tremendous with the company even claiming the upcoming smartphone to be their most premium device ever. Now, earlier on, details regarding the Mi 6 were really scarce but the latest leaks which have surfaced online do provide a rough sketch at what the device is slated to feature. Or at least some of it.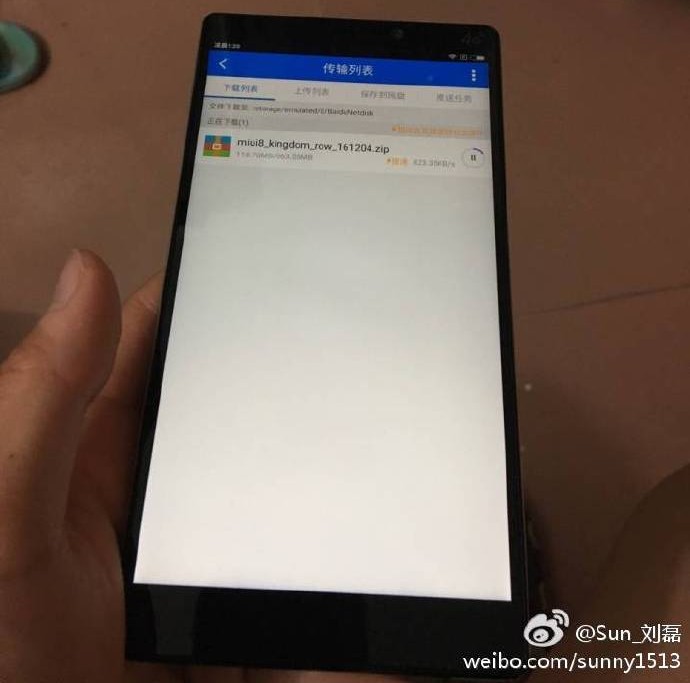 Some live images of a Xiaomi which have been leaked on Chinese microblogging website Weibo and by the looks of it, tech enthusiasts have come to the conclusion that the device is definitely a working prototype of the upcoming Mi 6 smartphone by Xiaomi. The pictures focused on the front end of the device and by the looks of the screen, it definitely seems to be running on MIUI. However, the MI logo is missing in the front, but considering the fact that it might be a prototype, that does not reasonably create any cloud of doubt.
Previous rumors in accordance to the Mi 6 shed light on two different storage variants of the device each having a 6GB RAM specification. According to Weibo, other tweaks in the upcoming device include a curved OLED display, 12-megapixel camera with a Sony IMX386 sensor at the back and a Snapdragon 835 chipset. Further details pertaining to the Mi 6 have been scarce for now, but considering the fact that device is slated for launch soon enough, we are positive that more details would definitely surface.