Xiaomi has become one of the leading smartphone developers not only in the Chinese markets but also in the markets of the different parts of the world. And it is primarily because of the number of new smartphones that have either already appeared on the scenes or is waiting in the pipeline to be released very soon. In the recent past, the smartphone from Xiaomi which has grabbed the attention of the tech enthusiasts across the world is the Mi 6, and the latest news that has come out is definitely going to make the fans who have been waiting eagerly for the Xiaomi Mi 6 really excited.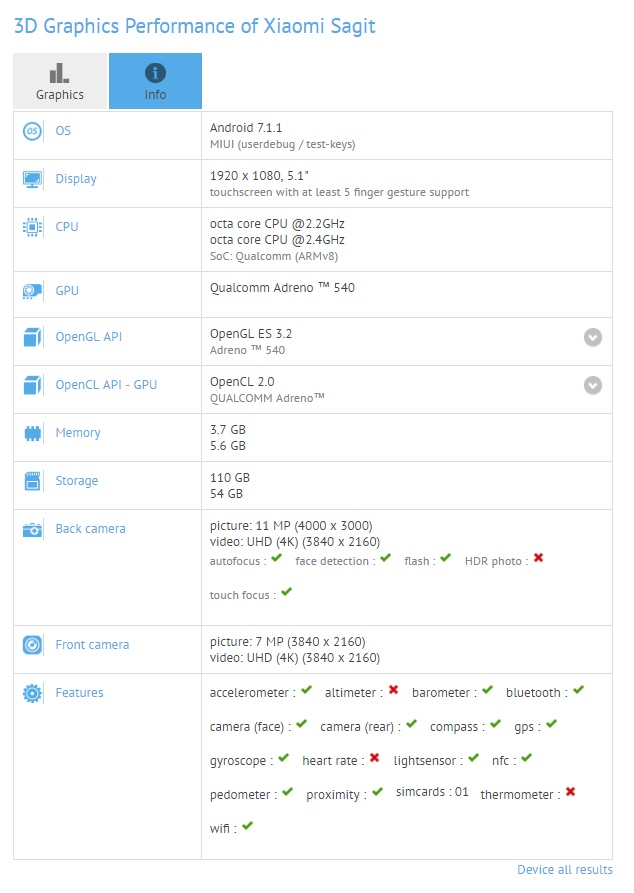 The latest update has stated that the Xiaomi Mi 6 has been spotted on GFXBench with a codename 'Sagit'. And once a smartphone appears on a benchmarking website, a number of specs and features get revealed. There hasn't been any exception on this occasion as well as we have come across the specs of the smartphone. Also, it can be stated that these specs will most probably come with the device when it launches in the near future.
The GFXBench revelation has informed that the Xiaomi Mi 6 will come with a 5.15-inch display screen which will be supportive of a Full HD resolution. The device will sport the Qualcomm Snapdragon 835 processor under the hood. Two variants of the smartphone are expected to be rolled out by Xiaomi; the higher end will have the processor clocked at 2.4 GHz while the lower end one will come with the processor clocked at 2.2 GHz.
The two variants of the device will come out with different RAM as well. The higher one will have a 6 GB RAM while the other one will have a 4 GB RAM. The internal storage will also differ – one will come with 64 GB internal storage and the other with 128 GB. The camera of the smartphone (both variants) will come with a 12-megapixel sensor on the back, and the front one will have a sensor of 8 megapixels. Both the selfie shooter as well as the rear camera support 4K video recording.
Both smartphones will run on an Android 7.1 Nougat operating system with MIUI on the top. The device is going to be backed up by a battery of 3,000 mAh. The higher end one will be backed up by 3,500 mAh. The smartphones will perhaps be available on the market in this month. Perhaps it is going to be April 18 although nothing has been confirmed yet. And we need to wait for few more days in order to get the confirmation regarding the release date of the Xiaomi Mi 6.