It has been not even a day that we have come across the Xiaomi Mi 6 and already news and updates have started coming out regarding the higher variant of the smartphone. The expectations are already on the rise regarding the Xiaomi Mi 6 Plus and the fans were somewhat taken aback as the leading Chinese smartphone developer held back the announcement of the Plus version of the Xiaomi Mi 6.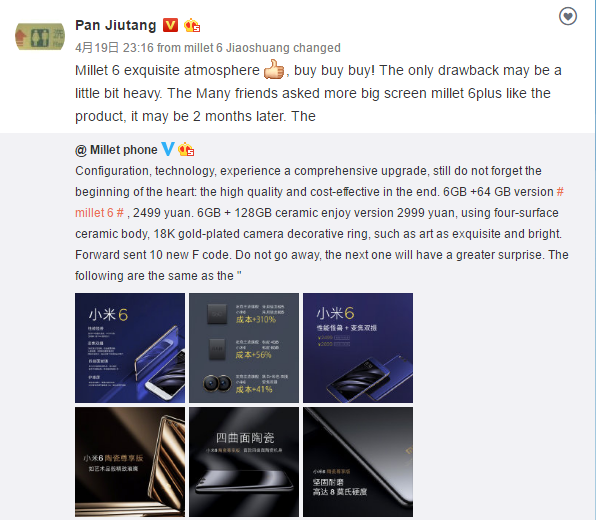 It was previously believed that Xiaomi would launch the Mi 6 Plus along with the basic version of the flagship device. However, that did not turn to be a real in the end which has really made the fans worried about the existence of the much promised higher end variant. However, according to the latest update that has been posted on Chinese website Weibo, there might be an announcement coming our way shortly.
Pan Jiutang, one of the reliable leaksters, has posted on Weibo that the Xiaomi Mi 6 Plus is going to be launched within a couple of month's time. The hint that it will be rolled out soon came out as the analyst was responding to one of the posts from the official account of Xiaomi smartphones. And this might come as great news for all those who have been waiting for the Xiaomi Mi 6 Plus more than the basic version of the flagship device.
If we take a look at the specifications of the Xiaomi Mi 6 Plus, the first thing that grabs the attention is definitely the 5.7-inch screen. under the hood, there isn't going to be too much of a change from the original Mi 6. Few things in the bigger and better variant of the Xiaomi Mi 6 related to the design of the device might vary from Mi 6.
At this moment all that we can do at this moment is wait for the official statement related to the Xiaomi Mi 6 Plus. There should be one coming our way very shortly. Till then hold your breath and stay tuned for the latest updates related to the upcoming smartphones from different smartphone developing brands based out of the different parts of the world.