After gifting us many cutting-edge technologies, Samsung is again all set to mesmerize us with the world's first 'stretchable' display. The Korean tech conglomerate has announced on Monday that they will unveil the 9.1-inch long stretchable panel at the Society for Information Display (SID 2017) tech fair which kicks off from today at the Los Angeles Convention Center.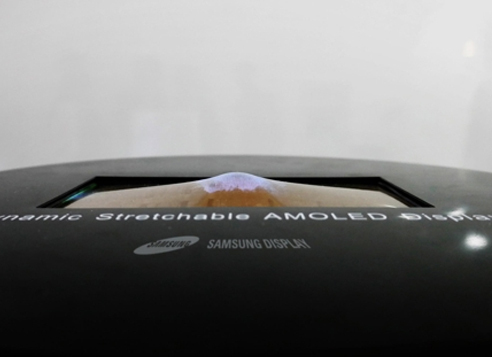 Although many flexible display technologies, such as foldable, bendable and rollable have already hit the market, the stretchable display is by far the most unique, innovative and advanced among them all. So what is the usage of this stretchable organic light-emitting diode panel? As per the company claim, the stretchable display can be used for numerous modern day technologies- artificial intelligence(AI), wearable display, automobile display and many other Internet of Things (IoT).
Not only that, the Seoul-based tech giant has also explained why the stretchable display is unique and innovative. Most of the existing flexible OLED displays are bendable in only one direction, whereas you can transform the stretchable OLED in both sides. The Samsung Display spokesperson said, "While current flexible OLED is able to be transformed in only one side, this stretchable OLED can be transformed — whether curved, bent or rolled — on both sides, above and below"
The working mechanism of the stretchable displays is very similar to the balloons. When pressed, the display dents up to 12 millimetres and reverts back to its original shape when the pressure is released.
Although Samsung is going to unveil this modern day technology today, the tech firm is not confident when it will be commercialised, as it is still in the early stage of research and development. But as the curved display is gaining immense popularity with the each passing day, it is not very long when the other flexible displays, such as bendable, rollable, foldable and stretchable will run riot in the display market.