The Chinese smartphone making brand Gionee has launched their latest handset S10 with incredible four camera option at a launch event in China. With an innovative dual camera setup both at the front and the back end of the phone, the Gionee S10 is available in three variants; the most premium S10, S10B and the least expensive S10C. The Gionee S10C and S10 will be made available for purchase in China starting from 9th June whereas the interested buyers can lay their hands on the S10B starting from today itself.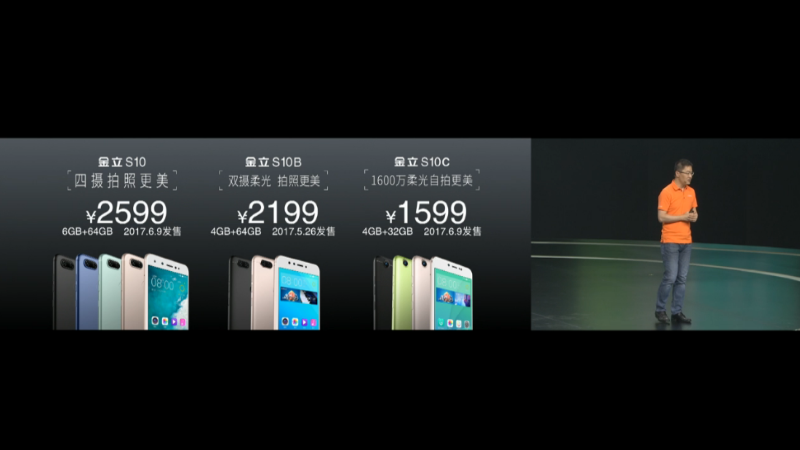 If we talk about the specifications of the Gionee S10, the handset flaunts a 5.5-inch full-HD In-Cell display with the pixel resolution of 1080×1920 pixels. The successor of the hugely popular Gionee S9 sports a 16-megapixel sensor and an 8-megapixel sensor with 6P lens and f/1.8 aperture at the rear end of the phone. While on the front end of the handset features a 20-megapixel snapper as well as an 8-megapixel shooter.
Moreover, this brand new handset runs on the company's very own Amigo 4.0 OS and is powered by a MediaTek Helio P25 processor clubbed with 6GB of RAM. Moreover, the handset offers 64GB of internal storage and is backed by a mammoth 3450mAh battery. The most expensive variant among the three, the Gionee S10 is priced at CNY 2,599 (approximately Rs. 24,400).
The intermediate variant, the Gionee S10B also comes with a dual camera setup at the back. At the rear end, the handset includes a 13-megapixel and 5-megapixel sensors while at the front it boasts of only a 16-megapixel sensor. Like the aforementioned Gionee S10, this smartphone also sports a 5.5-inch full-HD display, runs on Amigo 4.0 OS and is powered by a MediaTek Helio P10 chipset clubbed with 4GB of RAM. With 64Gb of internal storage capacity and a 3700mAh battery, the Gionee S10B costs CNY 2,199 (approximately Rs. 20,700).
The least expensive model, the Gionee S10C comes only with a single 16-megapixel snapper at the back and a 13-megapixel shooter at the front. Just like the other variants of the series, the Gionee S10C also runs on the Amigo 4.0 operating system but sports a smaller 5.2-inch HD display. The handset is powered by a Snapdragon 427 SoC clubbed with 4GB of RAM and 32GB of internal storage. With a 3100mAh battery, the Gionee S10C is priced at CNY 1,599 (approximately Rs. 15,000).