OnePlus has been in the headlines of the news feed from the field of technology and that is quite understandable. This is because we all are waiting for the launch of the flagship device from OnePlus. As we near that, further news is coming in with the latest one revealing the appearance of the device in AnTuTu.
AnTuTu is one of the most popular benchmarking websites and most of the smartphones before their launch pass through AnTutu benchmarking. This provides not only the consumers but also the experts an idea of how things are going to pan out once the smartphone gets launched. And the same has happened with the OnePlus 5 which has been one of the most discussed smartphones at this moment.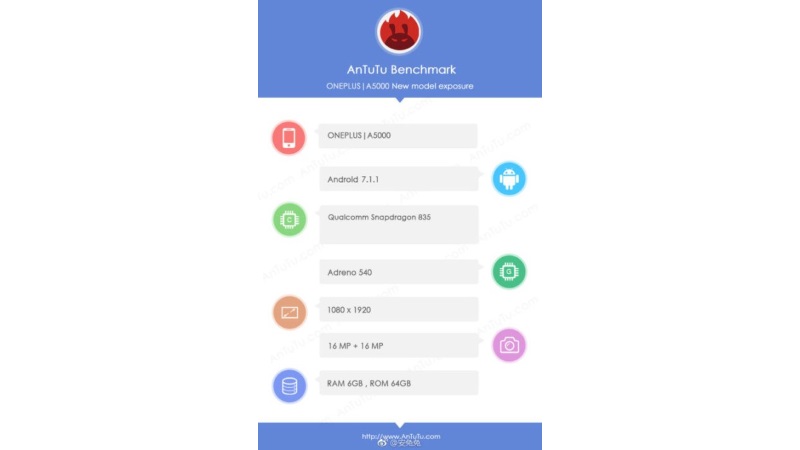 The AnTuTu listing has revealed that OnePlus 5 is going to hit the market with A500 model number. The upcoming flagship device has managed to score 176,000 points which is much more than many other smartphones in the recent times. The specs and features, which have been revealed, state that it is going to be one of the better smartphones of the ongoing year. The first one which grabs the attention is the camera of the smartphone. Both the rear as well as the selfie camera will come with the 16-megapixel lens which hints at the fact that the camera is really going to be one of the highlighting points of the smartphone.
Along with the camera, the smartphone will have the Qualcomm Snapdragon 835 chipset under the hood paired with 6 GB RAM and 64 GB internal storage. OnePlus 5 will have the Adreno 540 as its GPU. Although the dimension of the screen is yet to be known, it has been brought to light by the AnTuTu listing that the smartphone will support a display resolution of 1920 x 1080 pixels which quite impressive. The upcoming flagship device will run on an Android 7.1.1 operating system out of the box.
Previous news and updates have revealed a lot of information and almost all are in correspondence with what the AnTuTu listing of the OnePlus 5 has revealed. The smartphone is expected to hit the market in the month of June although all these information is subject to further confirmation from the developers.