The 2017 Samsung Galaxy A4 device, which was leaked on the Internet just a few days ago, has now gained Wi-Fi certification, which means that the new phone may soon be on its way to mass production. The new handset was leaked on the Chinese social networking site Weibo and is also expected to be a decent mid-range smartphone entry. The new smartphone carries the model number SM-A450F and is visually similar to other oncoming phones this year, including the Samsung Galaxy A3 2017 series and the upcoming Galaxy J7 2017. The hardware specs are not too clear, however.
2017 Samsung Galaxy A4 Specs and Features
The 2017 Galaxy A4 is said to feature a fingerprint reader which will be mounted on the front of the device, which, in a sense, is very similar to the one commonly found on the Galaxy A3 series. We believe that the handset will be powered by a massively powerful 3o00 mAH battery, reports The Leaker. Together with USB Type C support, it will be very similar to te other mid-range phones that we are normally used to.
Samsung, we may conceive, may also add fast charging on the new 2017 Samsung Galaxy A4. We do not have any details about the front camera of the phone but we expect some news on this front soon enough. We do know that the reverse or primary camera will be a fantastic 13MP camera along with F/1.9 aperture. Like we said, the documentation we accessed on Weibo does not spell out any details on the processor types which will power this device. We, however, believe, that the device may well be powered by a Samsung Exynos CPU.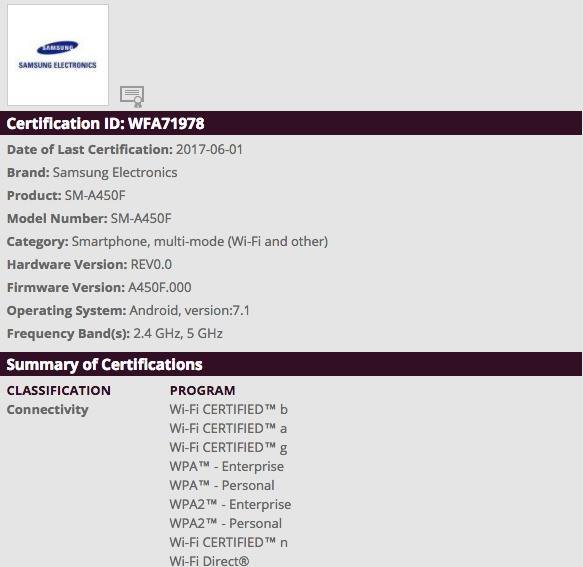 From experience, we know that such entry-level chipsets have a quad core processor and can support screens of up to 720p. We also believe that the 2017 Samsung Galaxy A4 will have a 5 inch Super AMOLED full HD display and will also have NFC capabilities. The device will be running the latest Android Nougat 7.1 and will feature the Samsung Experience UI, also formerly known as TouchWiz. Samsung had rebranded its signature Android UI in December of last year and was a key feature of the Samsung Galaxy S8 as well.