Motorola owned by Lenovo has been in the news for all the new smartphones which are in the pipeline to be launched in the coming. In quite a long list of the smartphones which are scheduled to be launched we have the Moto Z2 and the latest update has revealed that the smartphone has got listed in AnTuTu.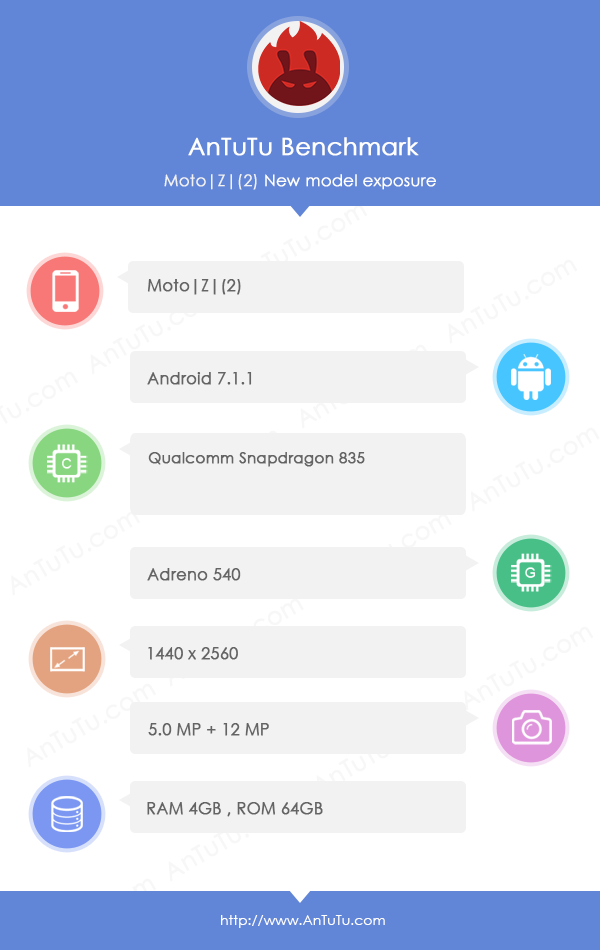 The AnTuTu listing of a smartphone always reveals some sort of concrete information regarding a smartphone and the same goes with the listing of the Moto Z2 as well. The smartphone has been revealed to be featuring the 64-Bit octa-core Qualcomm Snapdragon 835 processor under the hood along with 4 GB RAM and 64 GB internal storage. This combination sounds pretty exciting for all those who are eagerly waiting for the launch of the Moto Z2 from Motorola owned by Lenovo.
Along with the information related to the storage of the device, there are lots of other features which have been revealed. The smartphone is expected to support a display resolution of 1440 x 2560 pixels although the screen dimension is not yet confirmed. The Moto Z2 will come with the Adreno 540 GPU as well.
The camera of the smartphone from Motorola will sport a 12-megapixel rear camera. The selfie shooter will sport a 5-megapixel lens. The smartphone will run on an Android 7.1.1 Nougat operating system right out of the box.
Regarding the release date of the smartphone, there is no confusion as it has been not long that reports came out confirming the launch of the Moto Z2. To be precise, it is going to be on June 17 that the users will be able to get an idea how the smartphone is going to shape up. Certainly, it will be really interesting to find that out. And keep a tap on this thread in order to stay updated on any news which comes out related to the upcoming Moto Z2.