A few days earlier, Meizu Pro 7 had come to the fore with the leaked key specs. But now a fresh news seems to unveil something extraordinary about the smartphone. Packed to the rafters with a series of surprises, the upcoming Pro 7 flagship will be rolled out with a selfie touchscreen at the rear panel.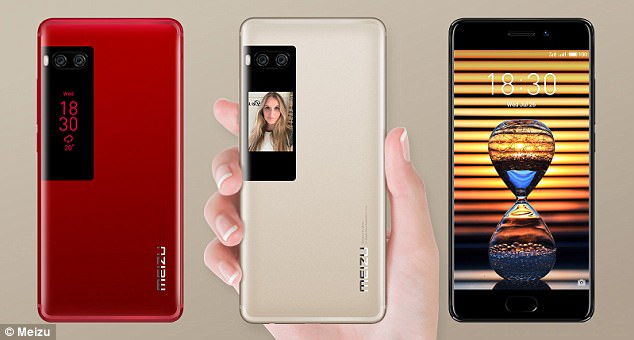 Unlike the cumbersome design of LG V20, where users had to drag their fingers to the top of the screen for selfie shooting, Meizo proves to be smarter by placing a 1.9-inch touchscreen at the back of the device. The feature provided by Pro 7 developers will light up automatically when flipped over. But the feature doesn't offer just a selfie screen, but also something beyond users' expectations. It also offers a music player which acts as a mirror for taking selfies as well, by using the primary camera.
Pro 7 is expected to come in two different variants: while the namesake base handset would feature a 5.2-inch screen, the Pro 7 Plus will roll out with a display screen of 5.7-inch. In fact, as reported, the first is to be powered by Helio X30, MediaTek's updated 10-core tri-cluster chipset. Although there's a vast difference between Qualcomm's Snapdragon 835 and Helio X30, on paper, the MediaTek has performed well in catching up with its rival.
Imaging aspects offer a better optic technology, featuring a primary camera of a 16-megapixel with an aperture of  f/2.0. Meizo Pro 7 Plus, on the other hand, will come with a 12-megapixel dual camera and a f/2.0 aperture. Battery wise, Meizu Pro 7 sports a 3,000 mAh battery, while the Pro 7 variant with 3,500 mAh one. The higher end handset will sport a RAM of 6 GB with an internal storage of 64/128 GB. Pro 7, on the other hand, will come with 4 GB of RAM alongside 64 GB of native storage.
The Meizu Pro 7 model will come in three color variants- Black, Gold, and Red, and for Pro 7 Plus, it will be of two variants- Space Black and Black.