After getting enormous success in the field of smartphones, televisions, tablets, gaming consoles and other electronic gadgets, Sony has now launched a brand new projector, called as the Sony Xperia Touch. The Xperia Touch is a unique projector which is powered by the Android OS, and like most of the top-notch gadgets, it also comes with a hefty price tag of $1,699.99 (almost Rs. 1,10,000). As the projector runs on the Android OS, it can also double as a tablet, and for that, you only need a flat surface, like a wall or a table, where you can project on.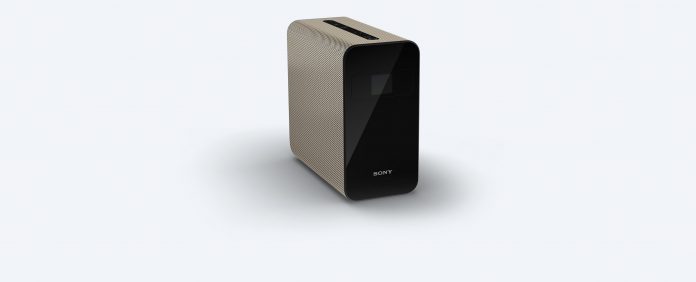 The Sony Xperia Touch Android-based projector is ideal for viewing multimedia contents, making video calls with the 13-megapixel camera it sports and even browsing and posting on various social media platforms. Speaking of the specifications, the projector measures 5.6 x 5.3 x 2.7 inches and also is capable of projecting on a 23-inch virtual touchscreen.And if you have more people watching then you can convert it to an 80-inch projection. As the projector comes with a browser, you can install apps and games from the internet and can play them on big screens.
The Sony Xperia Android-based projector sports 1366 x 768 resolution and comes with a contrast of 4,000:1 as well as a brightness of 100 lumens. Moreover, this projector also comes with a presence sensor so you can use this as a family hub as well as shows calendar, messages, and other details.
The only setback of this Sony Xperia Touch Android-based projector is the battery backup. The battery only supports an hour of video projection, so you need a power outlet nearby, to use this projector uninterruptedly. This amazing projector is available on Amazon and selected stores of T-Mobile and Sony in the United States.
https://youtu.be/dlGYgCf5xrM