Zhuhai smartphone manufacturer, Meizu, knows the strategy of garnering its popularity. Not too early, we have seen it, when this Chinese company brought its M6 Note phone in the new Flame Red color variant. And in terms of specifications, the only word which may go parallel is: excellent! Now, if the latest report is considered to be anything to go by, Meizu has declared in its official statement that the brand will launch its initial full-screen design smartphone in 2018's first half. And earlier this week, an unidentified Meizu phone's rear shell had surfaced.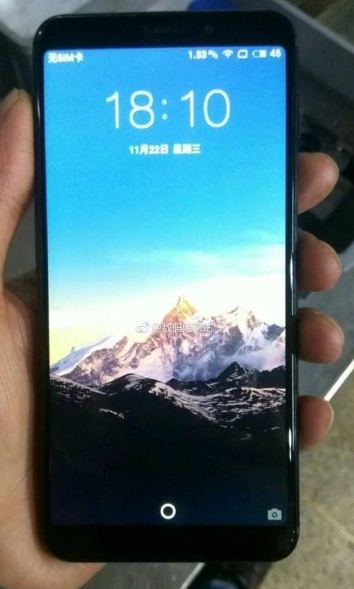 Fresh images have come up online which clearly gives us a good look at the mysterious full-screen Meizu m1712 smartphone. What we gather from the images is a fingerprint reader, which is neither a rear-mounted nor placed on the front. Instead, there's a recess on the right edge of the this Meizu m1712 smartphone, reports GizmoChina. Due to this, interestingly, the fingerprint scanner of this device is mounted on the right side.
To add more information, one can also expect this Meizu m1712 smartphone to feature on-screen buttons due to the presence of a small circle on the screen. Besides, the only thing we know for the time being is its model number m1712. Also, on the software front, the device will run the Android 7.0 Nougat operating system out of the box.
Vice President of Meizu's Blue Charm lineup, Li-Nan, has stated recently that there will be a full-screen Blue Charm smartphone to arrive next year with a price tag of  3,000 Yuan (~$450). Apart from this, we have seen how Meizu's Pro 7 was leaked with an imminent India launch via a Twitter post by Meizu India. The device is excellent in its own way which features a unique secondary AMOLED display. Not just this, it also flaunts a camera screen to shoot selfies more efficiently. Underneath, it is powered by 2.5GHz MediaTek Helio P25 octa-core processor and sports a 5.2-inch Full HD Super AMOLED display. For more news related to this Meizu m1712 phone, one may stay tuned to us here.