Android launchers are nothing but your tool for customizations in terms of icons, fonts and the overall outlook of your phone screen. From the basic to stylized, you have a number of options and ways to choose from. here is a list of the best Android launchers for your phones: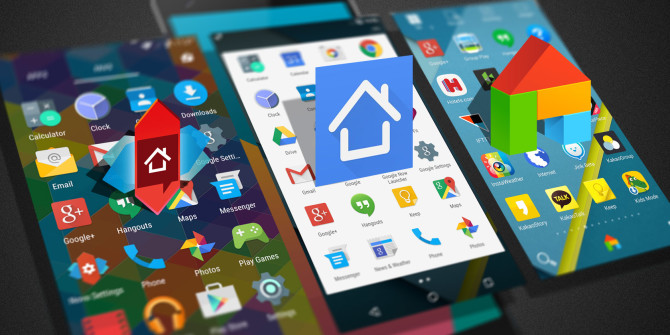 C Launcher
C Launcher is the kind of launcher which will allow you to explore your device. You are given suggestions and you can as well track the data usage. From the range of themes to choose from, you can experiment and create!
Buzz Launcher
Buzz Launcher has in store a set of exceptional features which will change the look of your phone entirely. With a buzz widget, you will be all set to give
a new look to your phone!
Action Launcher
This is yet another amazing option if you wish to kind of change the entire interface of your device. The regular app drawer is replaced by the slide in drawer for your apps and along with these, you get a number of new ways to launch apps and more.
Google Now
For all those who wish to stick to the Android kind of interface, Google now remains the best option.  This again is not only quick but also innovative in its own way.  Not to forget the "OK Google" command which lets you execute a number of functions!
Aviate
Aviate brings your apps into one place depending upon the use of each. You can manually handle them as well. Depending on where you are, the launcher helps you access certain functions and apps faster. For example, while you plug your earphones, media-related functions would be available in the form of shortcuts.
Go Launcher
This one is for those who are looking for something which is not plain and simple but has its own set of shizz. From easy access to applications to the flashy 3D transitions, the Go Launcher is yet another amazing piece!
Nova
Another launcher with its own set of pros which include a number of animations, desktop-like behavior and customization options in terms of almost all the features. Nova is the kind of launcher which can delve into the individual needs in every possible way.
Launcher Pro
This one is for all the users who are yet to even move to Android 4.0. With a range of customizing options, this one has its own pros and cons; but is worth a shot!
This was all on the best of Android launchers for your Google devices. From the most basic to the jazzy and bling, here is a list of all. Depending on your need and choices, you will surely fall in love with at least one of them!