It now seems as if the luxury segment of the smartphone market is as much a reality in Asia as it is in the West. Take the LG V30 Signature edition, for example. It takes all the goodies that the flagship LG V30 has to offer, packs in a few more juicy tidbits, and then comes up with an absolutely incredible device. We have previously covered the LG V30 in religious detail, including how the LG V30+ was launching in India just some days from now.
One of the major differences between the regular LG V30 and the Signature edition is how much emphasis has been laid on the design aesthetics of the device. It does look extremely classy and is smooth to the eyes. While the specs and features are remarkably similar, some smaller tweaks have been made. Overall, should you buy this device, you will be paying for the great looks and the hallowed social circles that it will let you enter.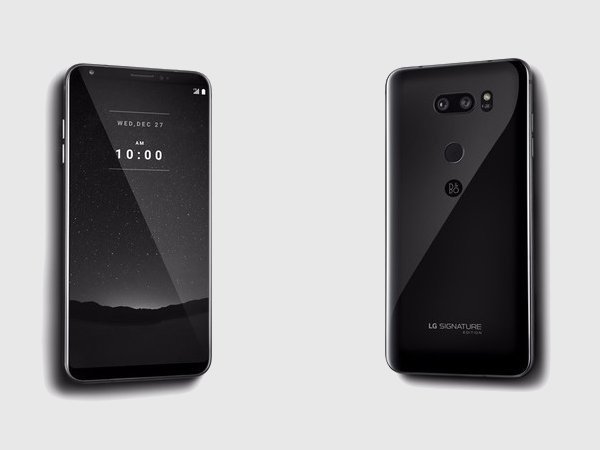 As far as the LG V30 Signature edition's specs and features are concerned, it is, like we said, remarkably similar to the standard LG V30 device. However, it does have a significantly improved 6GB of RAM paired with 256GB of internal or native storage. This is a significant upgrade when compared to the 4GB of RAM on the LG V30 and the V30+ handsets. The Signature edition will also ship with Android Oreo right out of the box. As of now, this device will ship in white and black color options.
LG has stated that it will produce only 300 Signature Edition units. This means that in case you wish to buy one, you might have to wait awhile. Interestingly, LG has also said that it will select a few lucky owners whose names will be engraved on the rear plate. Speaking about the rear panel, instead of the traditional glass panel, this variant will have a scratch resistant zirconium ceramic plate.
The price of the LG V30 Signature Edition is high, more than the iPhone X. You will have to shell out a whopping 2 million won, which is roughly $1820 (a sum roughly equal to Rs. 1,17,523 in India). Stay tuned for more updates.