A lot of claims by the smartphone manufacturers get void when the devices are put into tests. After the release of four flagships (Apple's iPhone X and 8 Google's Pixel 2, Samsung S8) by the majors in smartphone field claimed many things but once we out all of these devices in tests with the new One Plus 5T, the claims by the biggies seem to be faded away! In a recent test by some experts, One Plus 5T is proved to have the fast charging capability through its dash charging cable.
Let's have a look at the test results-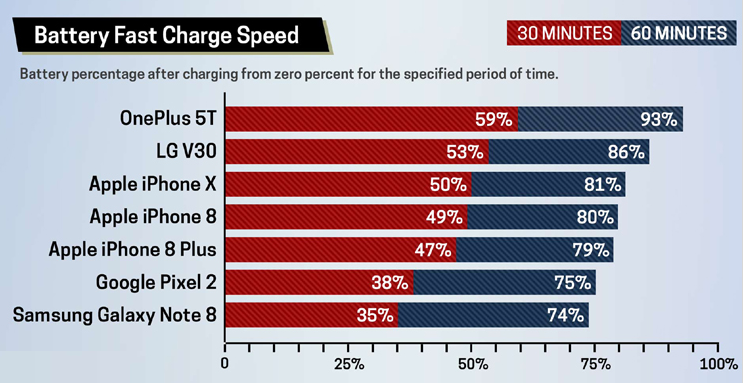 One Plus 5T is way ahead of its competition and gets 59% charge in just 30 mins and it's as per the promised half day charge in just half an hour, we are pretty impressed with this result but disheartened as well as Google Pixel 2 failed to compete enough with the front-runner while the new iPhones managed to get the satisfactory results at least. This test proves that One Plus 5T is the faster one among the flagships and even the fastest one if we consider the whole smartphone niche at a time. No other phone can come close to this result achieved the One Plus 5T.
Among the new iPhones, iPhone X is better and gives a competition to the One Plus 5T while LG's V30 comes pretty close to the first and secured the second place with 53% charge in 30 mins while iPhone X placed itself at the third position. The worse performance is shown the Samsung's Note 8 that got only 35% charge in 30 mins and 74% in one hour while One Plus 5T goes around 93%, pretty much closer to the full charge! This test is carried out the experts in Toms guide.
What's your take on this result of dash charging of the flagships? Let us know as the discussion isn't over yet.