The current flagship smartphone from the Finnish tech company, HMD Global, is the Nokia 8 device. The recent report has surfaced online which states that Nokia 8 has been put through the DxOMark testing. But unexpectedly, the device has come with disappointing results. And much to the dissatisfaction of fans, this Nokia handset which has scored very low is even ranked below other smartphones such as the Redmi Note 3 and Lava Z25. Even, Apple's iPhone 6 happens to come above the Nokia 8 device in the testing.
Gizbot reports that the smartphone has got an overall score of 68, while on the contrary, the same smartphone acquired 72 points for photos and 62 points for videos. According to the DxOMark testing, the firm stated that the camera of Nokia smartphones is capable of producing quality images in certain situations. the review note nevertheless adds that there's room for improvisation of the device. And if HMD Global wants Nokia to compete strongly with high-end smartphone giants like Apple, Samsung, and Huawei, Nokia devices should be able to perform outstandingly in future. As per the optics features are concerned, the Nokia 8 device comes with dual 13MP cameras with 1.12µm-sized pixels, optical image stabilization, and a f/2.0-aperture lens.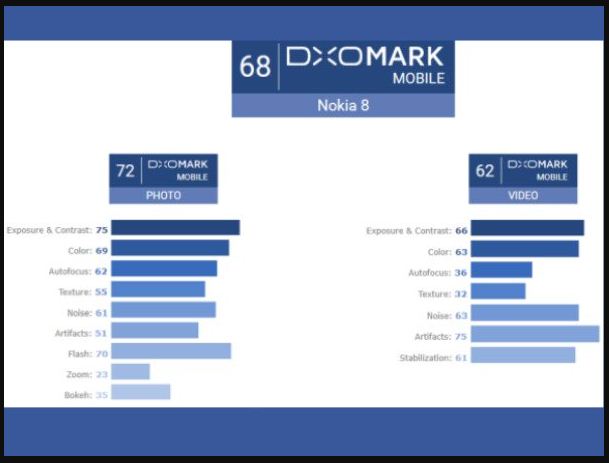 Report from DxOMark reads, "In terms of texture and noise, Nokia 8 noticeably lags behind other flagship phones. Fairly strong noise is visible in areas of plain color, even in bright light, and levels of detail are generally low, with a lot of blurring of fine detail and textures. As you would expect, detail decreases further in indoor and low-light shooting conditions. In addition, the Nokia suffers from a very noticeable loss of sharpness in the field, with strong softness often visible towards the edges of the frame. Most other artifacts are well-controlled, however."
"The performance of its camera module lags behind expectations. The Nokia 8 is capable of producing decent still images, but in many situations, it cannot match the image quality of the cameras in current high-end phones from most competitors," the publication report thus concludes.