Samsung, the South Korean giant, has finally filed a patent for the latest fad in the technological market, which is the in-display fingerprint scanner. Remember that Vivo, the Chinese manufacturer, has beaten the giants of the smartphone industry by being the first to incorporate the in-screen fingerprint scanner. Only today, we covered the upcoming Vivo X20 Plus UD, as reported here. It seems that Samsung does not want to be left far behind either.
 Both Apple and Samsung have been struggling to incorporate this latest feature. Samsung, however, has gone one step further: not only will the fingerprint scanner be set upon the display, even the camera will be set on the display. What is that if not science fiction come true?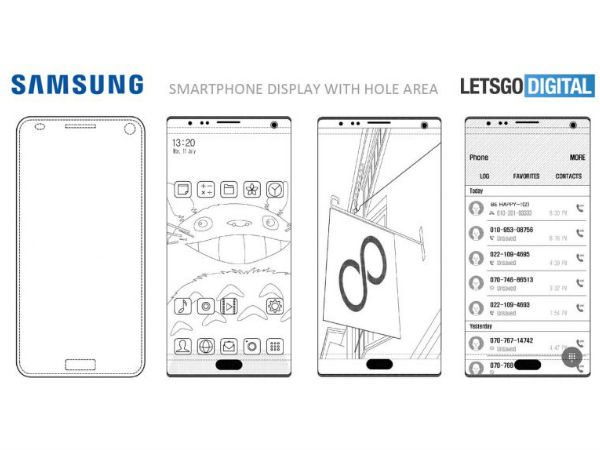 The latest news about Samsung's patent plans comes via Lets Go Digital, more on which you can find here. According to the filings before the WIPO (World Intellectual Property Organization), the company plans to incorporate the fingerprint scanner and the camera onboard the display. Even the sensors will be migrated aboard the display, which will pave the way for the first true edge-to-edge every designed. In this way, the company hopes to avoid the ugly notch aboard the new iPhone X.
The patent also shows off another model which actually has a notch similar to the Apple devices launched last year. We, however, do not expect that a design completely similar to Apple will be launched. This is because the companies are bitter rivals in the real world.
We must warn you, however, that simply because the patent has been launched, the technology may not immediately to the real world. This transitions ideally take some time and it may be some years before the tech actually descends. Remember that last year, there had been some speculation that the Samsung Galaxy S9 would have a fingerprint scanner aboard the display. That is not the case, however.