Sony, the Japanese conglomerate corporation has officially launched the RXO action camera in India. It is available for purchase starting today and comes with a price tag of Rs 64,990. It will be available through Sony brand stores as well as other camera retailers across the country.
The camera boasts 1-inch Emor RS CMOS image sensor that can support sensitivity up to ISO 12800. It features a fixed wide-angle ZEISS Tessar T 24mm lens with an aperture of f/4. The camera also implements Sony's Anti-Distortion shutter feature that enables it to shutter at a very quick rate of 1/32000 of a second and can shoot with a frame rate of 16fps and also features super slow motion video recording at 960 fps.
The camera is also water resistant meaning you can use it even in rainy weather and is well protected from accidental water damage. It can stay alive even if it is submerged in water at a depth of 10 meters for as long as 60 minutes. Sony has also claimed that its MPK-HSR1 housing can survive water depths up to 100 meters.
The company has also claimed that the camera can survive impacts of drops to the ground from a height of 6.5 meters. The RXO camera can also withstand extreme loads up to 440lbf/2000N
In addition, Sony is also bringing a host of new accessories along with the camera which includes  VCT-CGR1 Cage, MPK-HSR1 Housing, CPT-R1 Cable Protector, VF-SPR1 Spare Lens Protector, VFA-305R1 Filter Adaptor Kit, NP-BJ1 Rechargeable Battery Pack, and ACC-TRDCJ Accessory Kit.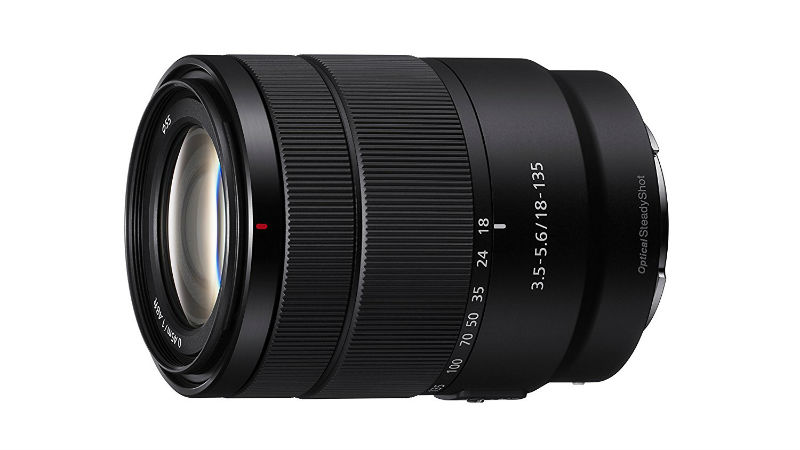 Talking about the Sony SEL18135 lens, it measures 67.2  X 88mm and weighs 325 grams. The lens has a magnification of 7.5X optical zoom with a focal length of 18-135mm on APS-C or 27-202.5mm in 35mm equivalent focal length. It is designed for APS-C sensor cameras, including the Sony A6500, A6300, and A6000.
Sony has also provided a great magnification ratio of 0.29X and a minimum focus distance of 0.45 meters. It also features optical built-in image stabilization (OIS). It is also provided with a linear motor that enables high-speed shooting and video recording.