Samsung's Galaxy J series smartphones are very popular for quite some time now. This includes all possible leaks and rumors over the past few days pertaining to the Galaxy J8, Galaxy J3, amongst other devices to release this year later on. Seems like the Korean company is gearing up on improving its market share in the mid-range pipeline with the forthcoming Galaxy J series smartphones, dubbed the Samsung Galaxy J7 (2018).
The Galaxy J7 series' next model seems to already be in the works as a new leak has emerged on the Internet.  appears. The new Samsung-branded device is seen with Android 8.0 Oreo OS. According to the benchmarking site, Geekbench, the device bears a model number "SM-J737P". It is solely expected that upcoming Samsung Galaxy J7 (2018) house the chipset that was employed by Galaxy A8 (2018) lineup: the Exynos 7885 SoC.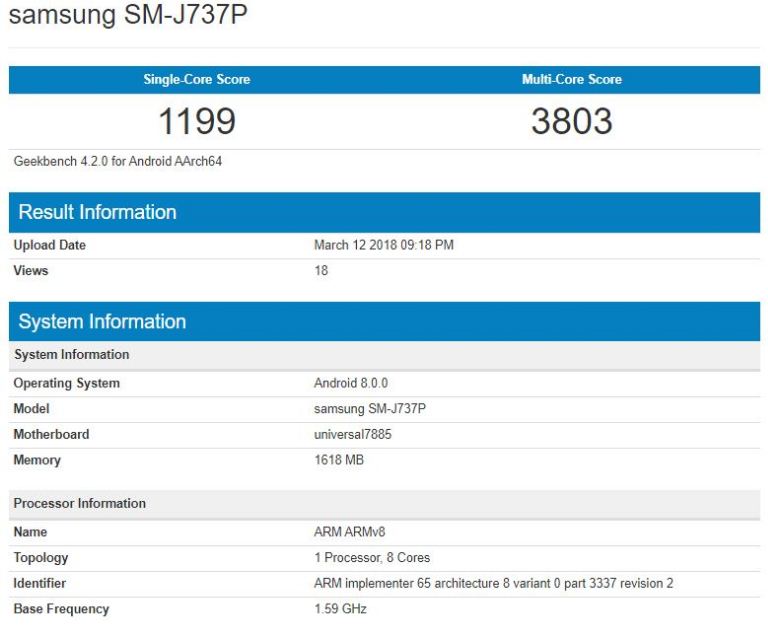 Coupled with the processor, there's a 2GB of RAM with a roughly usage capacity of 1.6GB. The device has scored nearly 2,000 points in Geekbench single-core test, while in the multi-core testing, it secured 3,800 points. While further details are yet to get revealed, we expect the company to come up with some authentic information. The "Samsung Galaxy J7 (2018)" moniker is unmentioned nevertheless the device is expected to be known officially as Galaxy J7 (2018).
What's worth mentioning is, the traditional Samsung Galaxy J7 introduced in the year 2015 was identified with "SM-J700P" model number, therefore, the "P" suffix spotted in Geekbench indicates that it could be a variant destined for the US-based network operators like Virgin Mobile and Boost Mobile, reports Android Headlines.
The past few years have witnessed the introduction of devices in Samsung Galaxy J7 series in spring or in summer between March and June. This tips to the fact that the Samsung Galaxy J7 (2018) might hit the market somewhere around March and June. Given that no official announcement has been given by the company, one may find this place easier to peep for further updates!