Toshiba today announced the first completely wearable Augmented Reality smart glasses that can combine the power of its mini PC with Windows 10 Pro and dynaEdge Head Mounted Display.
Toshiba has claimed that the AR smart glasses provide live video calls, See-What-I-See, photo and video capture, document viewing, messaging, barcode scanning and workflow instructions to make it ideal for multiple uses.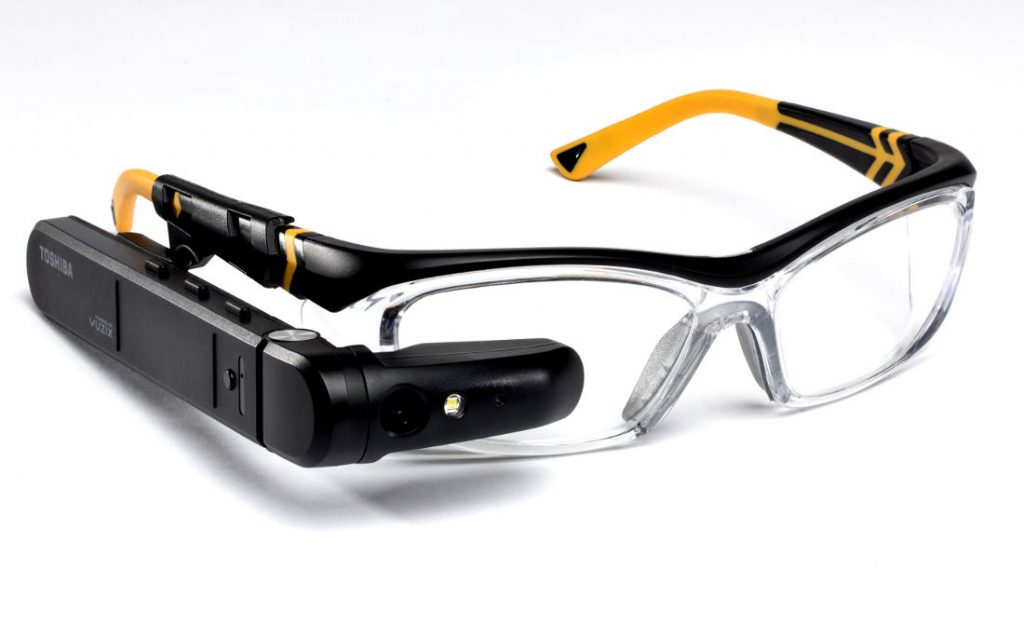 The Toshiba wearable AR smart glasses can be used with either the left or right eye, based on your preference and weighs about 50 grams. It has an in-built micro-display unit that can provide a viewing experience that is equivalent to a 4.1-inch display seen at 14 inches and also has an integrated touchpad, gyroscope, GPS support, accelerometer, 5MP POV camera, speaker and a dual noise-canceling microphone for voice communications.
In addition, it also offers Lens-less frame, safety frame, safety helmet mounts with headbands providing utmost comfort and safety. The AR 100 Head Mounted Display has been developed in a partnership with Vuzix Corporation.
Toshiba's dynaEdge De-100 Mobile Mini PC has a total of five buttons, each serving different purposes. It has an on-device navigation system to enable up/down and left/down toggles along with an enter button. It features a fingerprint sensor for quicker and more secure access to the dynaEdge AR smart glasses. It also comes with a removable battery that offers the option of external charging with a charger that can charge four batteries together.
It is powered by an Intel 6th generation Core m processor with Intel HD graphics support, 4GB, 8GB or 16GB of LPDDR3 RAM, 128GB, 256GB or 512GB of SATA M2 SSD. It also features Wi-Fi 802.11 ac dual-band support with Bluetooth and optional 3G or 4G LTE. It features a USB 3.0 port, USB Type-C port and a headphone and microphone port.
The Toshiba AR Smart Glasses will be available in the second quarter of 2018 with a starting price of $1,899.99 and comes in various specifications in terms of processor, memory and storage options.