Acer has launched a new and upgraded version of the Nitro 5 gaming laptop with improved specifications and a laser textured body. Powered by the latest six-core high power 8th generation Intel core processors with Optane memory or AMD Ryzen 5 processor, the new laptop is even more powerful than its predecessors and is intended for avid gamers.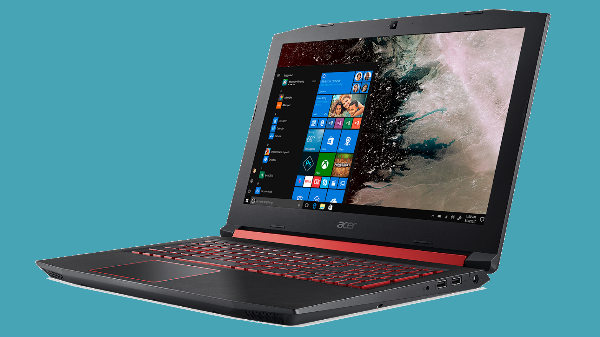 The Acer Nitro 5 gaming laptop comes in two variants in terms of processing power. It is either powered by a six-core high power 8th generation Intel Core processor with NVIDIA GTX 1050 or 1050Ti graphics card or AMD Ryzen 5 processor with Radeon RA560 graphics for faster processing power and better graphics rendering. Intel Optane memory chips empower the device to start up quickly in seconds and also offer quicker read/write speeds.
The system memory of the Acer Nitro 5 laptop is clocked at 2666MHz which is much faster than the current gaming standard. Apart from that, the gaming laptop also features Nitro Sense control software for better cooling management and system monitoring providing first-hand information about the CPU and eGPU usage.
The laptop features a massive 15.6-inch full HD IPS display screen that is claimed to offer improved visuals and crisp graphics rendering. It also features an HD front web camera that allows the gamers to strategize with fellow gamers face to face. In addition, gamers can also broadcast their games live using the Mixer which can be used from the Game Bar of Windows 10 by pressing the Windows key + G.
The gaming laptop also features high-quality speakers powered by Dolby Audio Premium and Acer True Harmony technology for better audio rendering. The laptop also features an updated wireless module that can offer speeds up to 1.73Gbps which is much faster than the conventional  1×1 ac wireless chips. Connectivity options in the laptop include HDMI 2.0 port, hyper-fast USB Type-C port, and Gigabit Ethernet ports.
The Acer Nitro 5 will be available in India from all Acer exclusive brand stores, third-party retailers, and e-commerce sites. The AMD processor variant of the device comes with a price tag of Rs 65,999 while the six core 8th generation Intel Core variant costs Rs 72,999.