Asus has launched a new range of ZenBook notebooks in Taipei, Taiwan yesterday. The new range includes two new models dubbed as Asus ZenBook Pro 14 and ZenBook Pro 15. Both the devices feature a ScreenPad that seem to have been inspired by Apple MacBook Pro launched in 2016.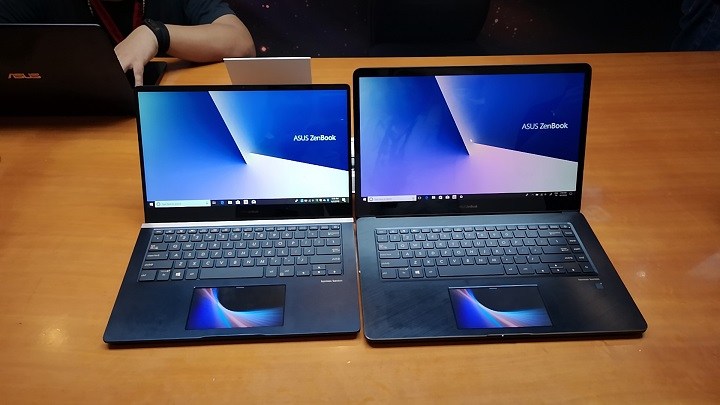 Asus displayed the ZenBook Pro 14 and the ZenBook Pro 15 notebooks that both run on Windows 10 out of the box and feature a ScreenPad that can function as touchpad besides the keyboard. The high-resolution touchscreen will offer the users a new way to interact with Windows applications installed on the notebook. The screen can be used to interact with some default Windows apps like MS Word, Excel and PowerPoint. The ScreenPad is similar to the Touchpad found on the first generation Apple MacBook Pro launched two years ago.
Apart from the default Windows applications, Asus has also provided some dedicated programs that will work only with the ScreenPad. It also bears a secondary display screen and can be used as a smaller version of the primary monitor.
Coming to the other specifications, the Asus ZenBook Pro 15 features a 15.6-inch 4K UHD NanoEdge Pantone validated display screen with 100% RGB color gamut. It is powered by an 8th Intel Core i9 processor coupled with 16GB of DDR4 RAM, Nvidia GeForce GTX 1050i GPU and 1TB of SSD. Connectivity options in the notebook include WiFi 802.11 1ac, Bluetooth 5.0, USB Type-C and Thunderbolt 3 ports. It also features a Harman Kardon certified audio system onboard. Asus has also provided a fingerprint sensor to enhance the security of the device.
The Asus ZenBook Pro 14 features a smaller 14-inch full HD NanoEdge display screen. It is powered by an 8th generation Intel Core i7 processor coupled with 16GB RAM and GeForce GTX 1050 Max-Q GPU. The notebook also includes Amazon Alexa voice support along with an infrared camera for facial recognition. Connectivity options are similar to the ZenBook Pro 15 model. Both the devices are expected to be made available for purchase later this year.