Google has updated its File Go app to bring some new features on board. The update brings file extraction support, faster offline file sharing and a new share tab. The update comes within a few days of the official launch of the Files Go app in China. The app also currently supports many Indian languages like Hindi, Bengali, Tamil, Gujarati, and Kannada among others. The app also recently received Odia support and works with all devices running on Android 5.0 Lollipop and higher.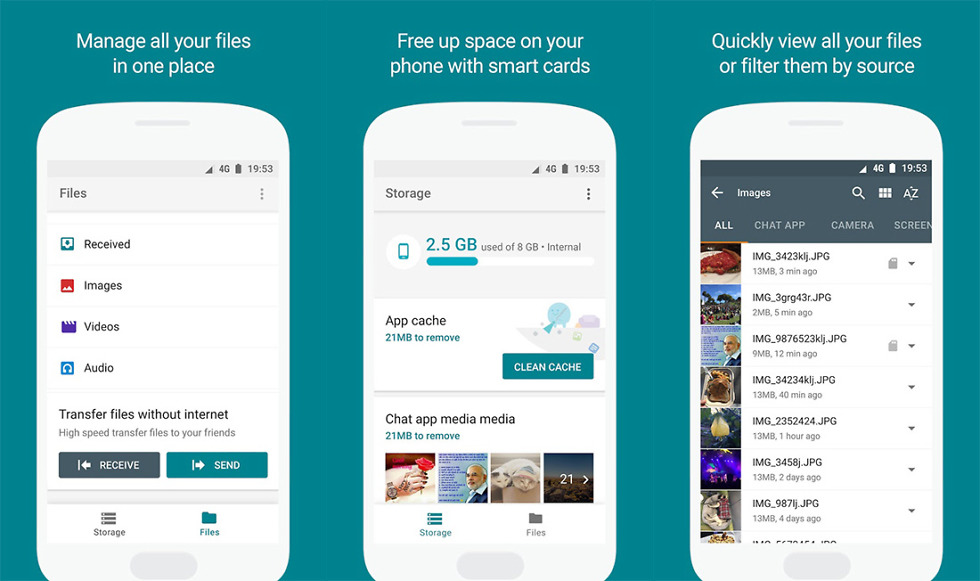 One of the key features that the update brings on board is a new share tab that makes file sharing with other users really easy. The new tab, which is now available alongside the Clean and Browse tabs replaces the file sharing option found on the old version of the app just below the file categories like Downloads, Apps, Images, and Videos. The new share tab will allow the users to receive and send files faster than before by using two buttons that do not require an active internet connection.
Apart from the new Share tab, the latest version of the Files Go app is claimed to offer up to 455Mbps transfer speeds. The app also supports file extraction which means you will not need any third party software to extract zipped files on your device any longer. The Clean tab has also been updated to help with the cleanup of unnecessary files more easily.
Apart from these features, the updated Files Go app has been tweaked a little. The original Files tab has now been replaced by the Browse tab apart from getting a new Share tab. The hamburger menu has also been tweaked to display a counter for the number of share recipients and friends helped by sharing the app with your contacts. The settings menu have also been updated to provide a separate notifications window. The updated app is now available for download on Google Play.