The accessibility and affordability of modern travel have been a counterpoint for our society. It's a mind-bending notion to consider the fact that any individual can quickly pack a bag, book a flight with a few clicks in an app, and arrive in a new locale — domestic or international — with minimal logistical effort and time.
Additionally, the sheer portability of modern electronics has made it possible for a single mobile device to take the place of several: a smartphone now carries with it the capability to be a music player, an e-book reader, a note-taking device, email portal, camera, photo editor, and social networking tool along with countless other roles.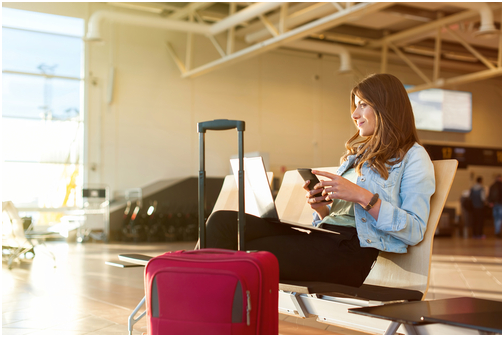 How To Stay Connected Abroad
Mobile devices have streamlined the process further by allowing the traveler to take all of their electronic conveniences they've grown accustomed to at home — apps, networks, contacts — along with them: provided they have some sort of data connection. This makes it markedly important to find a mobile service provider that is as flexible as you are when you travel.
Some travelers opt to take their mobile plan on the road: many carriers offer add-on plans for the international traveler, specifically for the area of the world they intend on visiting. Other travelers elect to stay connected with the Wi-Fi option available in most smartphones, tablets, and laptops. While the availability of Wi-Fi can be spotty and sporadic in certain locales; certain cellular providers are better than others, offering their own hotspots in international airports and travel hubs, complimentary for subscribers or included in their travel rate plans.
Utilizing the Right Device
Yet another option is to invest in an unlocked phone. For example, Android users could opt for the ever-popular Samsung Galaxy S8 or the very capable iOS-equipped Apple iPhone 7. While they may seem pricey compared to some carrier-locked phones, having an unlocked phone allows the user to operate the phone on a variety of different networks, including international ones. Many international carriers offer pre-paid SIM cards that you may simply insert into your own unlocked phone (preserving all of your settings, contacts, content, and applications) and you're using the phone internationally on a local network in the same way you would domestically. Typically, you're also allowed the option to reload minutes, as well as data usage on the same card, so you don't have to keep purchasing new cards.
Security As A Priority
If you plan on using your laptop while traveling, keep in mind that you'll need access to either a Wi-Fi hotspot or the ability to create one with your phone, allowing you to tether your computer to your mobile device and use your cellular data plan. If you'd rather connect directly, some providers do offer many secured access points worldwide that you may be used simply because you are a customer, or at a very reasonable additional cost. It's important to keep in mind the necessity to keep your data secure while traveling, and not use unfamiliar and open networks to share your personal data.
Finding A Comprehensive Option
Probably the best all-around option is to go with an internationally-friendly carrier that offers comprehensive plans that cover at least minimal international travel so you aren't hit with unexpected overages and charges when you leave the country. It's also a good bet to choose one that focuses their resources on offering hotspots internationally so free Wi-Fi is accessible to you as a customer of that particular provider. In this case, not all carriers are created equal. It's worth doing a bit of research to find the one that may suit you and your travel habits the best.