After a huge success of Redmi Note 7 Pro, Xiaomi is looking for another big bash with its upcoming Redmi Note 8 Pro! Note 8 pro images have been leaked online and some of the features of this upcoming device have been out and fans around the world are expecting something big this time. Let me tell you some features that are way apart from the Redmi Note 7 pro in all classes. First of all, Redmi Note 8 Pro is going to have a triple camera setup at the rear part of the device while having a placement at the middle top axis of the back frame!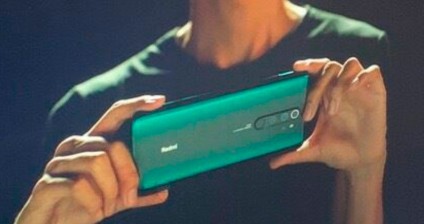 The leak image shows a boy holds a device and the rear panel was only shown, it was looking like a promotional video had been making at that time when the image was clicked.
Redmi Note 8 Pro will feature a glossy greenish finish at the back panel. The fingerprint scanner sits at the middle position of the rear panel. As per our prediction, this device will feature a 64 MP main shooter camera and a 16 MP AI-enabled selfie camera. Designwise and camerawise it's going to be a decent upgrade over Redmi Note 7 Pro this time and we are expecting a proper technical upgrade while having a decent lineage over its series, Redmi Note pro!