Microsoft is going to organize a gala event on 6th of October where they are hopefully going to launch the second generation model of Microsoft Band i.e., the Microsoft Band 2.Microsoft Band 2 is basically a Smartwatch which monitors your heart rate, track your sleeping time, steps and calories, prepare your workout chart and even facilitates you with GPS.
Almost a year ago Microsoft launched their first fitness tracker Microsoft Band, but the device got mixed review. Its features, functionality and ten rich sensors have been praised vastly where as on the other hand the overall comfort, design and the look have been disappointing. We hope Microsoft Band 2 will fix these major issues that made its predecessor version an average and decent device.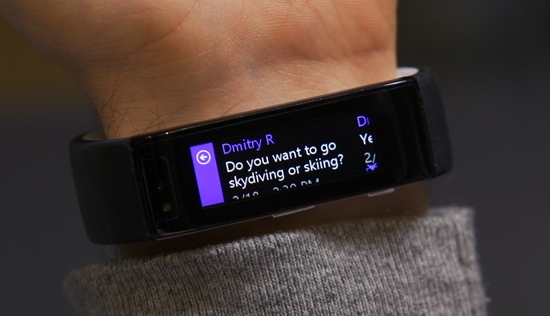 Microsoft Band 2 probable Design
Microsoft has successfully kept its lips zipped, and there are hardly any rumours about the Microsoft Band 2.  But recently we got some leaked images of this wearable and according to that Microsoft Band 2 will come with a different design with improved functionality, better comfort and more flexibility. Those images also indicate that there will be new buttons as well as a metallic frame will be used in the display.
This brand new fitness tracker could use two silver circles in the strap, which are electrodes basically, to measure galvanic skin response and heart rate. The ten sensors used  in the first generation band  – 3-axis accelerometer, optical heart rate sensor, GPS,  gyro meter, ambient light sensor, UV sensor,  skin temperature sensor, capacitive sensor, galvanic skin response sensor and a microphone will also probably be used again in the second generation model.
Also Check: Sony Smartwatch 4
Apart from these, some more sensors will be stuffed in this Microsoft Band 2 such as an altitude sensor, a Barometer more precisely to track how many stairs or flights you have climbed.
Microsoft Band 2 Interface
The present model of Microsoft Band does not run a special operating system, but it runs on wearable architecture that has been prepared for low-power micro-devices. This might change in the Band 2.Windows 10 has already been released, and it is expected that this Smartwatch will be incorporated with Windows 10. Also, Microsoft is working with the plans to synchronise the fitness tracker with PC or console.
Microsoft Band 2 Display
Microsoft used  1.4-inch TFT (320 x 106 pixels) full-colour display screen in their first generation Band. Though this display has done a decent job Microsoft might go for a curved OLED display to compete with the Samsung Gear Fit fitness tracker. Hopefully, Microsoft will retain the touch screen too in this device.Lack of touch screen will make this gadget a bit inconvenient and unnatural.
Microsoft Band 2 Battery life
Most of the fitness trackers and smartwatches  with colour screens and  work as a notification  centres come with two days of  average battery life.The present Microsoft Band requires charging after every  two days of normal usage. It's unlikely the second generation fitness tracker will also give such kind of battery performance as many more sensors and a colour touch screen will be included in this device. GPS, Barometer and other sensors will suck up the battery too.
Microsoft Band 2 Expected Price
Microsoft Band is priced at $199 , so it is expected the second generation model will also follow the same path.
If the Microsoft Band 2 will come in different size variants, hen the price will change accordingly. The bigger the size is the larger the price  will be.
 Microsoft Band 2 Expected Release Date
Microsoft is going to launch some Lumia handsets and Surface Pro  4 in their 6th October event. So we are expecting that they will announce the official release date of Microsoft Band 2 on the very event .  Speculations  are Microsoft Band 2 will be out in the market within the upcoming Holiday season or shortly after that.
Conclusion
Folks Microsoft Band 2 with its unique features, plenty of sensors and slick ,c a omfy design  could be your best buddy if you use it probably .This fitness tracker will help you to maintain a healthy diet, will assist you to keep a sharp fitness regime and will guide you when you are lost alone in the road. So, wait for few days  more and grab this Smartwatch as soon as possible.