No matter whether you are an ardent, hardcore PC gamer or a casual, "just for fun" kind of warrior, your hardware can be the difference between the cup and the lip. Yes, for PC gamers, the most important component is the graphics card they choose to install on their machines but a quality screen to go with it can get the best out of that GPU and provides you with the competitive edge you are craving for. When we play the modern day first person shooter, racing, sports and other fast and furious action packed games, we face various monitor related problems like blurred images, flickering, tearing and other motion artefacts. But a good, quality gaming monitor can negate all the problems and can deliver a smooth, immersive gaming experience. In this article, we shed lights on the factors to be considered before buying a gaming monitor and the best gaming monitors of 2017.
Panel Size and Resolution: the most important factors
When we are discussing about gaming monitors, the bigger is always, the better. If you have the space to fit into a 27-inch monitor, then go for it as it offers a Full High-Definition display with the maximum resolution of 1,920 by 1,080. Many of the new age  27-inch models are Wide, Quad High-Definition (WQHD) monitors which provide a staggering  resolutions of 2,560 by 1,440 pixels. If you are worried about the desk space, then there are plenty of brilliant 24-inch monitors out in the market, but you'll be restricted to 1,920-by-1,080 resolution. If you have both space and money, then we will recommend you a 30-inch, Ultra-High-Definition (UHD) monitor which will deliver a stunning picture with an amazing 3,840-by-2,160 resolution.If money is no constraint for you at all, then buy a  34-inch Ultra-wide monitor with or without a curved panel. With  21:9 aspect ratio and a curved panel, you will feel a lot closer to the action.
A few words about Panel Technology 
Several types of display technologies are being used today, and each has their pros and cons. Twisted Nematic (TN) panels are the are the most popular among the gamers as they offer fast pixel responses and refresh rates, but they have a problem of colour shifting when viewed from an angle. Vertical Alignment (VA) panels are famous for their robust colours, high native contrast ratio and ability to display deep blacks, but they also suffer from  creating noticeable ghosting effects, which can eventually hurt the gaming performance. IPS panels offer strong gray-scale performance, the best all-around colour quality, and wide viewing angles, but they can't parry with the pixel response of TN panels and thus lags the gaming speed.
Pixel Response and Refresh Rate
Gaming monitors bound to have a fast pixel response and a high refresh rate for better performances. The most widely used pixel response specification is "gray to gray" which signifies the time it takes a pixel to transition from one shade of gray to another in one millisecond.
A monitor's refresh rate is measured in Hz and refers to the time taken to redraw the entire screen. Most LCD monitors these days come with a 60Hz refresh rate, but high graphics game and fast moving images may appear blurry at this refresh rate. So go for a monitor with a 120Hz or above refresh rate, which not only helps reduce image blur but is a criterion for active 3D technology.
Synchronisation techniques like G-Sync and FreeSync 
The latest new age gaming monitors use synchronisation technology to diminish the tearing and other motion artefacts and also lowering the input lag.Nvidia's G-Sync or AMD's FreeSynccomes with such synchronisation technique.This gives control of the screen's refresh rate to the GPU which reduces the input lag and results a very smooth gaming experience.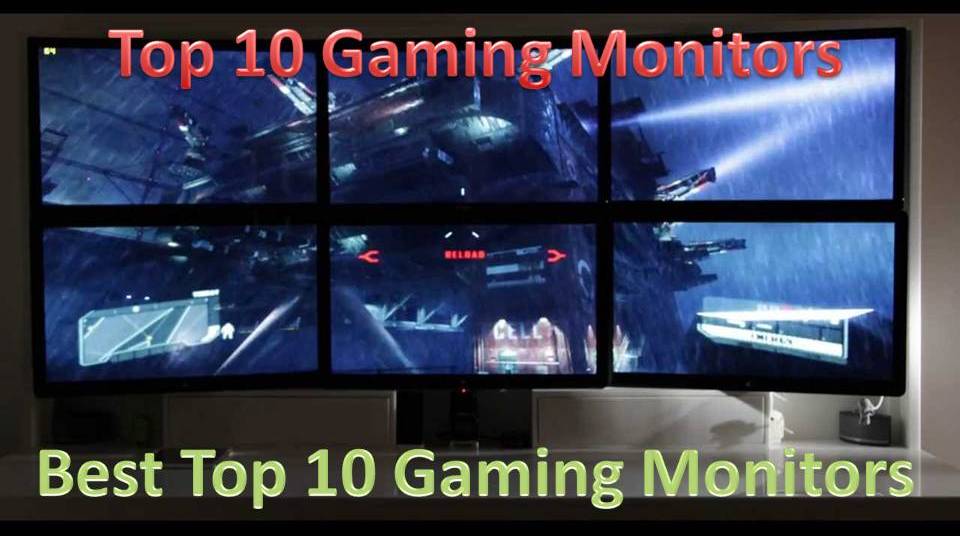 Top 10 Gaming Monitors of this year (2017)
Acer B286HK
Acer B286HKis a 28-inch UHD monitor that offers brilliant gray-scale reproduction, high detailed image and superb gaming performance.
Asus ROG Swift PG278Q
This product of Asus is a 27-inch WQHD monitor tailor-made for the gamers. It uses Nvidia's G-Sync technology and comes with a staggering 144Hz refresh rate to deliver super-smooth motion performance.
BenQ XL2420G
BenQ XL2420G comes with 144Hz refresh rate, uses Nvidia's G-Sync technology and a feature enriched 24-inch gaming monitor for the stellar gaming experience.
The Acer XB270HU
The Acer XB270HU is a 27-inch monitor which usesG-Sync technologies and In-Plane Switching technique to deliver an amazing gaming experience.
The Acer XB280HK 
The Acer XB280HK comes with Nvidia's G-Sync technology and is a 28 inch UHD monitor which delivers buttery smooth gaming experiences.
The AOC U2868PQU
The AOC U2868PQU is a 28-inch UHD monitor comes at a reasonable price and also produces rock solid performance.
LG 24GM77
A 24-inch monitor solely designed for the hardcore gamers offers a plenty of features and customizability.
ViewSonic VX2475Smhl-4K
The ViewSonic VX2475Smhl-4K is 24 inch UHD monitor comes with latest video inputs and a shimmering 4K image.
EizoForis FS2434
EizoForis FS2434 packages an IPS panel with great image quality. It has a 23.8-inch screen, a USB hub and a remote control.
10.VIEWSONIC VX2263SMHL
VIEWSONIC VX2263SMHL comes with a decent IPS panel and for its low cost, It is a bargain for the gamers.