Long gone are those days when we used to carry bazooka-sized boomboxes to enjoy the ultimate audiovisual experiences while we are travelling on the road or partying outside our houses. With the technological advancements, those boomboxes have paved way for portable, wireless Bluetooth speakers which are more capable, durable, has better mobility and sometimes are as small as a soda can. Powered with long-lasting battery life, stunning audio quality and other useful features, these Bluetooth speakers are better and more affordable than ever and can turn any trip away from home into a tune-filled magical party.
Portable Bluetooth Speakers- New Way to Play with Sound 
Wireless Bluetooth speakers are compatible with nearly all smartphones be it Android, Windows Phone or BlackBerry and many Android tablets, as well as all iPhones and iPads. So, now the question is what  should we look for when we go to market to buy a Wireless Bluetooth speaker?? The main two features we should give the stress on are Audio Quality and the Battery life.A popular feature knowns as "360 degree audio" seems to be cropping up in Bluetooth speakers. 360 degree audio is a tube-shaped Bluetooth speaker that has drivers facing every direction, unlike to the traditional speaker which has front-facing drivers. This feature enables better audio projection and produce a surrounding "room filling audio".If we talk about the Battery life, not too long ago, a Bluetooth speaker offered battery life of around five hours, but in this golden era of Bluetooth accessories a Bluetooth speaker provides upto 8 to 10 hours of battery life.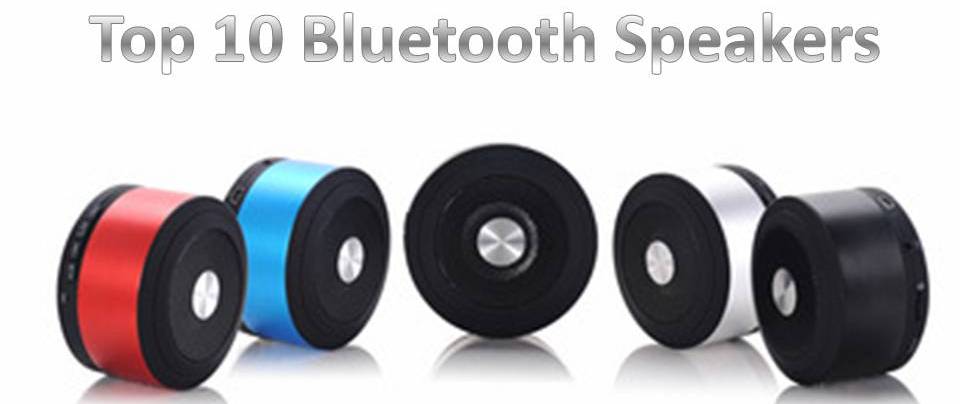 There's a vast array of choices out there in the market but we have done the digging to present you the  top 10 Bluetooth Speakers of recent times.
JBL Charge 2
JBL charge 2 comes in a size of large can of energy drink but has more functionality than one. This pocket size dynamite has a great sound quality that booms through the cylindrical chamber. Powered with magnificent battery life this device can be used as a backup battery for your phone, too.
Dell AD211
This is a stellar device from Dell which offers awesome sound quality, great battery life, luxurious look and also comes in a staggering low cost.
UE Boom 2
UE has proved themselves as one the most favorite portable Bluetooth speakers in the market with some tiny but key design upgrades, including full waterproofing and enhanced sound. full review you can read on this link.
Bose SoundLink Mini II 
This device from the Bose is a stand-out product in the modern day ultracompact wireless speaker category, featuring a top-notch design and stupendous audio quality.
Check : bose soundlink mini 1 vs 2
Sony SRS-X5
It offers the same sound quality and class of Bose but comes in a less expensive manner. This product of Sony is an absolute bargain.
Fugoo Sport
The Fugoo Sport is a wireless Bluetooth speaker that's superior to most of its closest rivals. It has  attractive look with a solid body, blasts out sound in all directions,waterproof and features an incredible 40 hours of battery life.
Jawbone Big Jambox
Jawbone Big Jamboxis an impressively designed product which offers strong audio performance and speakerphone capabilities.
UE Roll
UE roll has the perfect balance between low price, portability and audio quality. This compact speaker is waterproof ,has a disc shaped design and offers a staggering 9 hours of battery life.
Marshall Kilburn
Marshall designed Kilburn inspired by the guitar-amp and they actually mean it. Kilburn has rich bass and sharp treble and produce big sound in a small package. It has a very good battery life and you even can replace the battery when needed.
Creative Sound Blaster Roar SR20
Creative Sound Blaster Roar is packed with a bunch of cool features.Not only it plays music over Bluetooth, but it also has a built-in microSD card slot which allows this device to work as a standalone music player, a battery that can charge your smartphones, and a voice recorder function.
Hope you all have liked the list we have provided. Buy one according to your taste, choice and budget and make your travelling experience awesome. After all "One good thing about the music, when it hits you feel no pain".