As expected, the Chinese smartphone maker Vivo unveiled two new long-awaited flagship devices dubbed as the Vivo X6 and Vivo X6 Plus, yesterday in China. Both the phones are coming with lovely metallic bodies and AMOLED displays and will flaunt 5.2″ and 5.7" screens respectively. The X6 priced at CNY 2,600 (roughly Rs. 27,000), while the China Unicom version will cost CNY 2,500 (roughly Rs. 26,000). The big brother X6 Plus will be available at CNY 3,200 (roughly Rs. 33,200) while the China Unicom version is priced at CNY 3,000 (roughly Rs. 31,000). The handsets will be up for the sale from the next Monday, 7th December.
Vivo X6 Plus
Dimension wise, the Vivo X6 Plus measures only a slender 6.6 mm and comes in Gold, Silver and Rose Gold color options. The phone flaunts a superb 5.7″ AMOLED display with 1080 X 1920 resolution density,2.5 D curved glass and 386 ppi pixel density. The Vivo X6 Plus runs on the company's own customized FunTouch OS based on Android 5.1 Lollipop out-of-the-box.
Under the hood, the Vivo X6 Plus impresses with an octa Cortex-A53 cores enabled MediaTek MT6752 processor clocked at 1.7GHz, coupled with 4GB RAM and dual core Mali-T760 GPU. The smartphone comes with an impressive internal storage too, offering 64GB out of the box, with an option to add more.(up to 128 GB)
Both the X6 and the X6 Plus are dual-SIM smartphones, but the second SIM slot also comes with an option to use as a microSD slot. So that provides you an option to use the slot either as a dual-SIM or extra storage (but not both at the same time). The phone is protected with a fingerprint reader on the back too, which works in any orientation and needs just 0.4 seconds to unlock the screen.
In the camera aspect Vivo X6 Plus sports a 13MP rear camera with sensors like phase detection, autofocus, 6P lens, an f/2.2 aperture and LED flash. There's also an 8MP front camera with a self timer shutter button included in the handset for clicking selfies. The snapper launches in 0.6s and locks focus in 0.2s.
The features Vivo stuffed with the larger X6 Plus doesn't end here. In the audio department, the phone sports the latest high-end ES9028 DAC audio chip for the first time in a smartphone, a YAMAHA YSS-205X digital surround sound chip and an ES9603 amplifier maintaining Vivo's legacy as a pioneer in the so called Hi-Fi sound experience. Vivo X6 Plus is powered with a 3,000mAh battery which features 'Twin Engine Flash Charge' technology and Nine Vivo Charging Protection System for faster and safer charging.
Under connectivity options, the X6 Plus houses with  4G LTE (with support for Indian LTE bands), Bluetooth 4.0, Wi-Fi, USB-OTG, GPS, FM radio and USB 2.0. As we have discussed earlier the handset is launching in China on December 7 with a price of CNY 3,200 (around $500/€475) while China Unicom version will cost slightly less, CNY 3,000.
Key Specs of Vivo X6 Plus
Display: 5.70-inch
Processor: 1.7GHz
Front Camera:  8-megapixel
Resolution:  1080×1920 pixels
RAM:  4GB
OS Android: 5.1
Storage: 64GB
Rear Camera: 13-megapixel
Battery capacity: 3000mAh
Vivo X6
The Vivo X6 flaunts a 5.2″ Super AMOLED screen with 1920 X 1080p screen resolution, 2.5 D curved glass and 424 ppi pixel density. The handset measures 147.9 x 73.8 x 6.6mm and weighs 135.5 gm.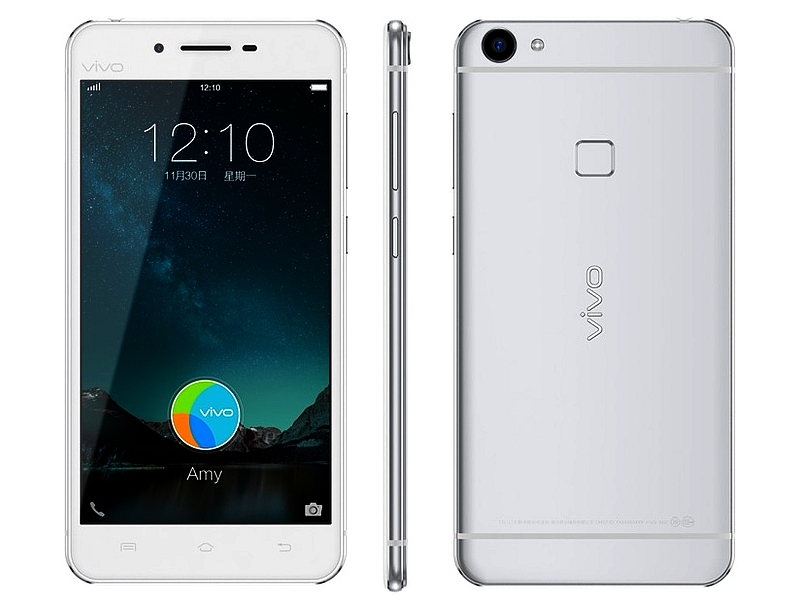 The Vivo X6 is housed with the same chipset of X6 Plus, coupled with the same 4GB of RAM, though the internal storage has been reduced to 32GB. Though 32 GB internal storage is more than sufficient in this price range and you will get the same dual-SIM/single+microSD option too.
This metal clad handset is made out of an anodized aluminum-magnesium alloy that's shaped in 57 steps. Some modern day techniques like laser engraving, nano injection molding and hand polishing are used to complete the manufacturing process of both the phones. In the audio department, the X6 also comes with a dedicated DAC, the Asahi Kaisei AK4375A model, a slightly lower level than its bigger version X6 Plus.
Vivo X6 Specifications 
Display: 5.20-inch
Processor: 1.7GHz
Front Camera: 8-megapixel
Resolution: 1080×1920 pixels
RAM: 4GB
OS: Android 5.1
Storage: 32GB
Rear Camera: 13-megapixel
Battery capacity: 2400mAh
Besides the screen, the X6 also differed with its bigger sibling in the battery aspect. Vivo X6 features a smaller battery, a 2,400mAh one. The handset still sports the fingerprint reader on its back and the 13MP back plus 8MP front camera duo. A dual-antenna provided in the Vivo X6 ensures better reception for the 4G LTE modem. There's also Bluetooth 4.0, Wi-Fi 802.11ac and other connectivity options in X6 Plus are also included in the X6 too.
The Vivo X6 is priced at CNY 2,600 ($390/€385) while the China Unicom version costs CNY 2,500. Vivo X6 is also launching on December 7.