Zomato has introduced an online chat option in their smartphone application where you can know the status of the order you have made through Zomato and if you feel to ask anything to clarify. You can leave your feedback over the chat also. Currently you can message through the in-app chat option anytime between 10 am to 11 pm (Indian Standard Time) across the Indian cities or UAE (United Arab Emirates) where Zomato online ordering service is available.
Users are able to get connected with the customer support team via that chat option which is simple and as well as efficient because the support member over there automatically gets all the details of your account and can easily let you know the status of your orders and clarify if you have any query to clear up.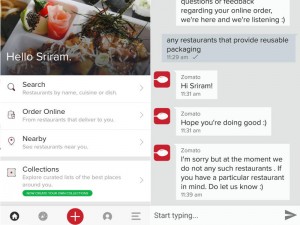 Zomato has gone in a strategic partnership between Konotor , a mobile first user engagement platform to get this chat feature on dashboard of your mobile app. Tanmoy saxena, Global Business Head of Zomato said that they had been working in this chat option for last five months, the ultimate motto behind it was improving user experiences through direct and real time support and that's also without making any phone calls.
This way Zomato makes its eyes on faster and efficient food ordering system. Although the running version is a Beta, within few weeks, users will get a fully fledged chat option which will come with an update. Android, Windows and iOS- all platform will get it.