Is it a Xiaomi Redmi 3? Or Xiaomi Kenzo? Well, another upcoming smartphone of the giant Chinese company has been dotted in a recent benchmark listing named Xiaomi Kenzo, which is also believed to be the next instalment of famous Xiaomi Redmi series. The benchmark listing also revealed that the upcoming handset is going to have a 1.4 GHZ hexa-core processor. Let's check all the details that we have till now on Xiaomi Kenzo or Xiaomi Redmi 3.
Xiaomi Kenzo (Redmi 3) Specifications
The leaked benchmark listing revealed several information regarding the specifications of 'Xiaomi Kenzo'. With single core tests the new Kenzo scored around 1420 while the upcoming smartphone scored 3420 when it was tested with multi score. However, Geekbench benchmark listing revealed very limited amount of information about the phone just like Xiaomi Libra few months back. So, just check the availablr Xiaomi Kenzo Features that we know of yet.
Have a Look: Xiaomi Redmi Note 3
Xiaomi Kenzo Features
As per the listing the phone will be powered by Android 5.1.1 while it is going to feature processor with 6 cores clocked at 1.4 GHz, ARM Qualcomm. Well, another flagship smartphone of the company is getting into the line dubbed as Xiaomi Mi 5. Earlier a leaked detailed also revealed that Mi 5 going to have two variant at least. According to the information, the one version will be priced at 20,800 INR, while the other one will be priced at 26,000 INR.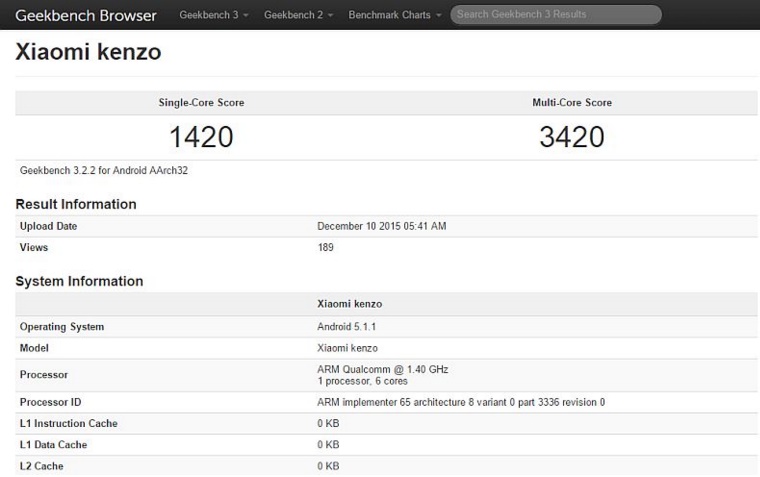 Well, no other official report has been published yet by the Chinese smartphone company about these upcoming handsets of it. However, some benchmark listing of it, is really creating the buzz over Asian smartphone market, let the time speak for it anyway.
Check Also : Xiaomi Mi 6 Features
On the other hand, most sought-after smartphone Moto G Turbo has recently been launched in India with Snapdragon 615 processor and 16 GB of internal storage. The phone can also be expanded to 32 GB with external MicroSD card. The phone is priced at Rs. 14,499. Check out the full Moto G Turbo Features.