ARM's Cortex-R range of processor is integrated in a lot of devices. The ARM Cortex-R8 processor is the highest performance Cortex-R series processor which can deliver real-time processing for a wide range of demanding and embedded applications. Built on the highly successful Cortex-R7 processor, the Cortex-R8 processor offers advanced level of performance like larger tightly coupled memories (TCMs), 1MB of data TCM per core, up to 1MB of instruction TCM and can be configured with 12, 16, 20 or 24 memory.
Check: Exynos 7 Octa 7870 SoC for mobile launched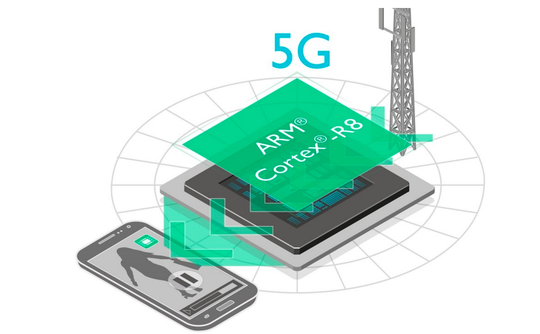 The new ARM Cortex-R8 processor offers  low latency, high performance and power efficiency demanded by future 5G modems and mass storage devices. "5G will revolutionize mobile communications as it delivers the ability to significantly increase data rates, offering a far better mobile experience," said James McNiven, general manager, CPU Group, ARM.  It has formed the backbone of more than 20 billion cellular devices worldwide and continues to do so.
Check: Qualcomm Launches 3 New Smartphone Chipsets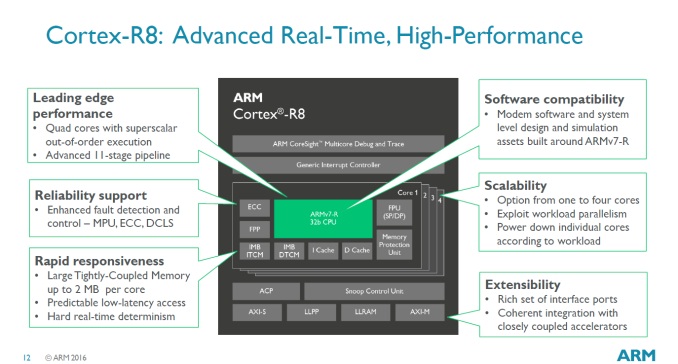 In terms of performance, the processor's frequency and power consumption are highly dependent on process, libraries and optimizations. As for the specifications, they are listed below:
| Features/ Key Specs | Description |
| --- | --- |
| Microarchitecture | 11-stage pipeline with instruction pre-fetch, branch prediction, superscalar and out of order execution, register renaming, parallel execution paths for load-store, MAC, shift-ALU, divide and floating-point. Also features a hardware divider and is software compatible with the ARM9, ARM11, Cortex-R4, Cortex-R5 and Cortex-R7 embedded processors. |
| Interrupt interface | Standard interrupt, IRQ, non-maskable fast interrupt, FIQ, inputs are provided together with a fully integrated Generic Interrupt Controller (GIC) supporting complex priority-based interrupt handling. The processor includes low-latency interrupt technology that allows long multi-cycle instructions to be interrupted and restarted. Deferral of lengthy memory accesses occurs in certain circumstances. |
| Debug | Debug Access Port is provided. Its functionality can be extended using CoreSight SoC-400. |
| Trace | An interface suitable for connection to CoreSight™ Embedded Trace Module is present. |
| Multi-core | Single, dual, triple or quad processor configurations for flexible performance in either Asymetric Multiprocessing Mode (AMP) or in Symetric Multiprocessing Mode (SMP). In addition it can be configured with a redundant Cortex-R8 CPU in lock-step for fault tolerant/fault detecting dependable systems. |
"The ARM architecture is the trusted standard for real-time high-performance processing in modems," said Daniel Diao, deputy general manager, Turing Processor Business Unit, Huawei. "As a leader in cellular technology, Huawei is already working on 5G solutions and we welcome the significant performance uplift the Cortex-R8 will deliver. We expect it to be widely deployed in any device where low latency and high performance communication is a critical success factor."