Epson's new Moverio BT-300 was announced at the Mobile World Congress 2016, in Barcelona, Spain. The Moverio BT-300 is the brand new member in the emerging world of Virtual reality (VR) headset. These Smart Glasses are designed to fit over people's eyes pretty easily and projects in-line digital content into the wearer's field of view. Its known to make use of a number of technologies like projection or holography. Currently their initial model is being displayed at the Epson booth in Congress Square. You can check out the cool glasses if you happen to be attending the MWC 2016.
Presently Epson Moverio BT-300 is showing signs of upgrade from its predecessors. It sports the branf new  micro display projection system called Si-OLED (which stands for Silicon Organic Light-Emitting Diode) which, according to Michael Leyva, Epson's North American Product Manager is a display will advance the viewing experience with 'deeper, truer black tones.' Its worth noting that the lenses of Smart Glasses seem transparent due to the a true black projected tone that enables lack of colour, there total transparency. And the projected digital content seem to appear more realistic, more believable and definitely more advanced.
ALSO SEE: HTC Vive Virtual Headset Launched at MWC 2016
Other upgrades include, an Intel Atom 5, 1.44 GHZ Quad core chip which is powered by  Android 5.1 widely expanding the users ability to use several app, weight reduction of  30% which means the Moverio BT-300 will be around 60 grams. The biggest good news about the device is that, unlike the previous BT-200 version's  VGA camera,  the all new Epson Moverio BT-300 will have a 5 MP front facing camera. To avoid overheating and latency problems, the Smart Glasses come attached by wires instead of being wireless.
To get a proper idea of the upgrades made in the new model, here is a 'comparison chart' between Moverio BT-300 and its two previous models –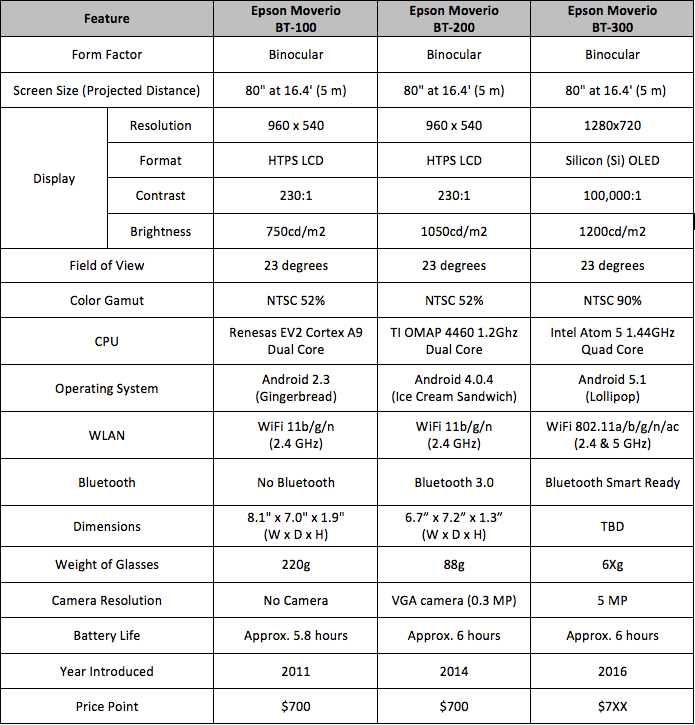 ALSO SEE: MWC 2016, SanDisk Launches Ultra Type C USB Flash Drive
Though the prices haven't been announced, speculations are that Epson Moverio BT-300 s going to be in the $700-$800 range. The company will start shipping the device in Q4 of 2016.