The all new Samsung Galaxy S7 and S7 Edge were launched in a recent event. It supports Snapdragon 820 Exynos 8- 8 core processor and has an in built 128GB and 248GB RAM. Apart from these features, the battery capacity of the smartphones are 3600mAh (S7 Edge) and 3000mAh (S7). As the feature itself says that the mobile phones have a long battery life which would support up to 10 to 15 hours duration respectively.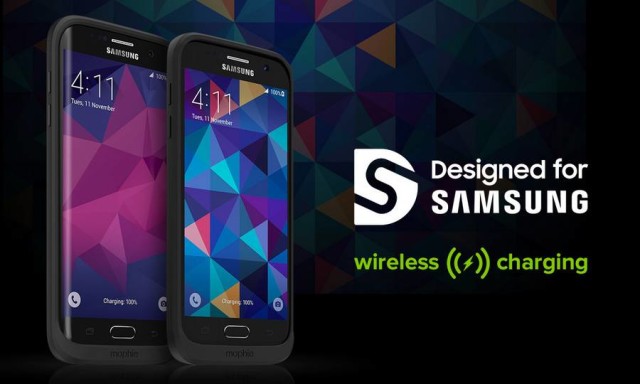 The smartphones when used would definitely stretch for longer duration but sometimes situations may arise that battery life might get finished. So, to overcome such situation brand new battery cases have been launched from the company Mophie.
Mophie is a U.S. based technology company that manufactures accessories for smartphones and other mobile devices. It mainly deals in portable charging accessories with second battery contained within. The company has likewise released its brand new battery cases exclusively for Samsung Galaxy S7 and S7 Edge. The USP of the case is that it is a wireless device for battery cases. The following smartphone can be charged anywhere for a long duration.
The technology company Mophie's wireless battery cases supports an extra 3300mAh battery which lasts long up to 13 hours in addition. It can also run on video play jack for extra 11 hours duration. The main feature of it is wireless which makes it convenient and portable. People can reuse it as many times till the battery life ends the brand new battery case. Unlike its competitors in the market it is exclusively designed for Samsung Galaxy smartphones and promises to be the best ever cases one can come across.
Do not forget to Check Best Galaxy S7 Cases
The price ranges to $99.95 and comes in stylish Black and unique Rose Gold colours. However, it is to be launched in the month of February this year all over the U.S. market.
Don't sit back and relax. Go get your latest Mophie's wireless battery case if you are an owner of Samsung S7 and S7 Edge series till stock lasts. Register Here
For further updates keep browsing our website.