The Japanese tech conglomerate, Panasonic has gifted their fans many rugged Windows-based tablets and smartphones in the past, and they have kept the trend going when they released their latest Windows-based smartphone, Toughpad FZ-F1, at the ongoing Mobile World Congress in Barcelona. Though the company did not spill the bin about the official price and the release date of Toughpad FZ-F1, but according to the sources working closely with this project confirmed us that the company will start selling the phone sometime this fall that means in August or September and the phone will be priced at $1,599.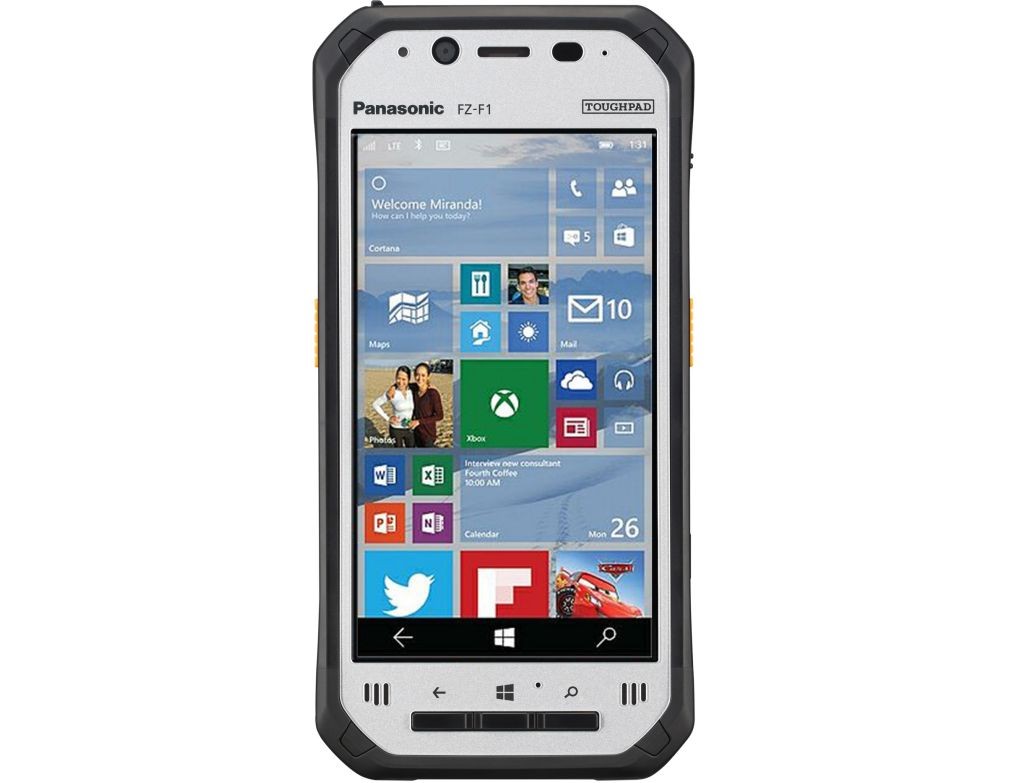 Panasonic Corporation is one of the world's leading electronic manufacturers and was founded back in 1918 as Matsushita Electric Industrial Co. Ltd. The company changed their name to Panasonic Corporation in 2008 and offers a vast range offers of products and services including home appliances, personal computers, televisions, mobile phones, cameras,  audio equipment, broadcasting equipment, projectors, automotive electronics, and smartphones.
Panasonic Toughpad FZ-F1 Features
While making this Toughpad FZ-F1, Panasonic has kept in mind the demands of the enterprise customers or the factory workers who crave for that their smartphones stand up to a lot of abuses. The brand new handset comes with a lightweight, ergonomic design into a fantastic form-factor tailored to specific verticals and needs; which helps the phone to stand-up to anything people, or the elements, can throw at it.
The Panasonic Toughpad FZ-F1 sports a 4.70-inch touchscreen display with a resolution of 720 pixels by 1280 pixels. The phone also offers multi-touch daylight readable display which is specially designed for the usage by the workers in bright sunlight or in the rain, and can be used with or without gloves.
The brand new rugged designed smartphone from the house of Panasonic, FZ-F1 is powered by 2.3GHz quad-core Qualcomm Snapdragon 801 processor coupled with 2GB of RAM. The handset includes 16GB of internal storage which can be expanded up to 64GB via a microSD card.
In the camera front, FZ-F1 features an 8-megapixel primary camera on the rear and a 5-megapixel front snapper for taking better selfies. This newly launched Panasonic smartphone runs on Windows 10 OS and is powered by a 3200mAh removable battery. As the company emphasizes on the industry workers, the battery of the handset can operate beyond a typical 8-hour work shift on the standard, features replaceable battery, and with an optional extended life battery it can go well beyond two full work shifts. If the users feel the battery change is necessary during work hours, it can be accomplished while keeping the device operational. And if even more power is needed, the quick charge capability of the device delivers extended use after a one hour charge, with a full charge averaging only two hours.
The dual-SIM supported (GSM+ GSM) Panasonic Toughpad FZ-F1 accepts Micro-SIMs on both the slots and includes all the modern day connectivity options such as 4G, GPS, Wi-Fi, Bluetooth, NFC and 3G. The handset also offers its users various sensors options including Ambient light sensor, Proximity sensor, Accelerometer, and Gyroscope.
This sturdy smartphone from Panasonic weighs just below 280 grams and taking into the consideration of the postal workers, as well as professionals in the warehouse, manufacturing, retail and emergency services in mind, the Toughpad FZ-F1 features both voice and data capabilities as well as an integrated angled barcode reader to protect against repetitive strain injuries, while increasing productivity. The angled barcode facilitates the workers to read the device screen while scanning – which helps them to complete their tasks faster than using a traditional straight line barcode reader.
If we talk about the durability and the robustness of the FZ-F1 , Toughpad FZ-F1 features a drop rating of 6′ and have also passed a torturous tumble test that saw the devices endure 2,000 consecutive 3.3′ drops. Apart from that handset is fully sealed against dust and are also submersible, in up to 3.3′ of water for 30 minutes, meeting IP65 and IP67 certification requirements. Its ruggedized glass screen ensures the high level of display reliability and durability.
Panasonic FZ-F1 Key Specs
Display: 4.70-inch
Resolution: 720×1280 pixels
Processor: 2.3GHz
RAM: 2GB
Storage: 16GB
Rear Camera: 8-megapixel
Front Camera: 5-megapixel
OS: Windows 10 Mobile
Battery capacity: 3200mAh
Panasonic Toughpad FZ-F1 Release Date
As we have said above, Panasonic officially did not disclose the release date of the Panasonic Toughpad FZ-F1, but according to our sources the phone will be available for purchase from the second half of the year; that means somewhat between August or September.
Panasonic Toughpad FZ-F1 Price
Just like the release date, Panasonic has kept their mouth shut about the official price of the Toughpad FZ-F1 , but according to our assumption the phone will be priced at $1599.
Wrap Up
So friends, hopefully this article on Panasonic Toughpad FZ-F1 release date , price, features and key specs have helped you a lot to get an idea about this newly launched phone. For more news on the MWC 2016, new smartphone launch, gadget news and other tech news; stay tuned to our website.