The South Korean tech conglomerate Samsung is planning to unveil the world's first foldable smartphone which could be used both as a smartphone as well as a tablet; as per a report published in the Korea's leading news channel ETNews. The website in a recently published article claimed that they talked with a Samsung executive who confirmed that a foldable handset would get the green signal for mass production by the end of this year and the long rumored foldable device will be available for public to purchase, in 2017.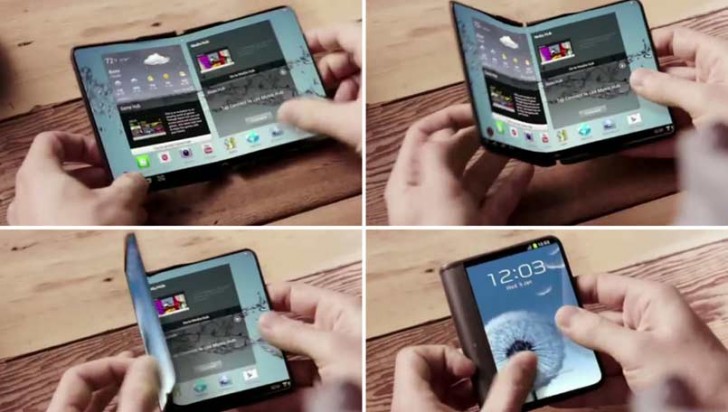 Samsung and its rivals; like Apple, LG and Sony have been working on flexible screen technology for years, and now finally it looks like the "secret ingredient" has been decoded. Samsung and its display manufacturing partner, Samsung Display, have collaborated with multiple manufacturers to turn the dream of a foldable smartphone into reality. The Korean tech giant is reportedly making a device which will look like a regular 5-inch smartphone, slightly smaller than the new Samsung Galaxy S7 but once unfolded; the handset's screen will expand to 7- inches, the size of a small tablet. Also it is being reported that the smartphone will come with an OLED displays, which the company have already used in its curved HDTVs, Galaxy S6 Edge and S7 Edge smartphones.
As we said ETNews the talked with the industry insiders and one of them has said and we quoted; "Although mass-production cannot be concluded hastily since Samsung Electronics still has few other major tasks to complete, I've heard that Samsung Electronics had made considerable amount of results in the time being."
Samsung is in the news for foldable smartphones for the last of couple of months. The Korean company addressed the media officially stating about the development of the foldable OLED displays in January, but could not produce a direct reference to an actual foldable handset.Lee Chang-hoon , the Director of Samsung's Display division said during an investors call in January "Development of Foldable OLED is taking place according to our plan. We are planning on mass-production and release of this product by discussing with our partners."
 They also filed a patent in March for a smartphone with a 'rollable' screen, which can be further expanded by being pulled up by the user, like a window curtain. So these are not just baseless and vague rumors but have some reality associated with it.
Though the working method and the specs of the rumored Samsung foldable smartphone are still yet unknown but need for such device is eminent. After a decade of explosive and exponential growth, the smartphones release these days are very much similar to their predecessors and the smartphone market is becoming saturated day by day.
There is also a possibility, though it is a mere speculation, that Samsung could incorporate this mind-boggling "foldable" technology in their upcoming flagship Galaxy S8 as the current flagship Galaxy S7 didn't come with any major upgrades in terms of design and disappointed a huge part of their fan base.
The rat race in the premium smartphone market demands innovation and whether Galaxy S8 comes with foldable technology or not, time will only answer that. But if the Korean company can properly and successfully execute this revolutionary idea into reality then surely Samsung will get a huge edge over its rivals and will boss the smartphone market for next few years .