Asus Zenwatch 3 is gonna be launched on 31st August! With a teaser image of the watch, Asus has confirmed that Zenwatch 3 will be launched soon, and there is no technical delay.
"Incredible is coming" with this new catchy tagline Asus has revealed that the new Zenwatch will be the next big bet from the company. Asus is famous for its quality product at competitive price.
Asus Zenwatch will be a little bit different from its previous watches. The design has changed, and the basic design has been changed as this time the intelligent Android watch will be adjusted into the round shaped aluminum case.
With the hashtag of IFA 2016, the company has mentioned a date; that is August 31, 2016. In the last week, the teaser of the watch has shaken the wearable industry as Asus has changed many things including the basic shape of their Zenwatch.
On a Chinese website, some photos are posted which are considered as the leaked images of the upcoming Zenwatch. Check the images here-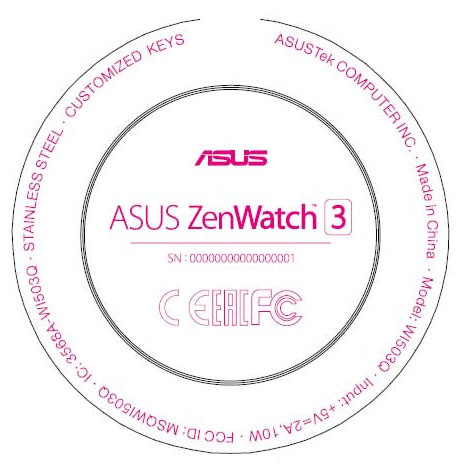 This is the image of the basic Zenfone 3 design, You better say it the outer design of the watch. Surprisingly it's round shaped!!
The leaked image shows the accessories come with this new Zenwatch. A charger is seen but another accessory is not recognizable. We think it's a watch guard or something like that.
You can see the dimensions of the dial of the Zenfone 3 here.
Apart from the images, Asus has posted an image in its Twitter account….Check that below and think what it could be. Are you agree with us??
The time for something incredible is now! #IFA16 #ASUS pic.twitter.com/D7GgqHJvUW

— ASUS (@ASUS) August 17, 2016
Considering the fact that Asus Zenfone 2 was launched at the same time of the previous year, we are quite confident that this time, the "Incredible" thing is the new "Zenwatch 3".
At this time, there is no conclusive evidence to prove which devices will be launched at the event. Therefore, we will have to wait for an official word from the company regarding the matter. IFA 2016 kicks off on September 2, and lasts till September 7.
The alleged Zenwatch 3 images were leaked on Chinese website ePrice (via GSMArena) and showed accessories along with the watch.