We all know why the Kindles are used. For smooth E-reading experience, there has been no match of Kindle till date. Kindle has been the uncrowned king of this field. Now, the competitor of Kindle, Kobo Aura One E-Reader has arrived with a promise of better performance and a buttery reading experience.
Let's know about the killing features of the Kobo Aura E-reader which has grabbed the attentions of the many e-book readers around the world and many of them are looking for a switch also!!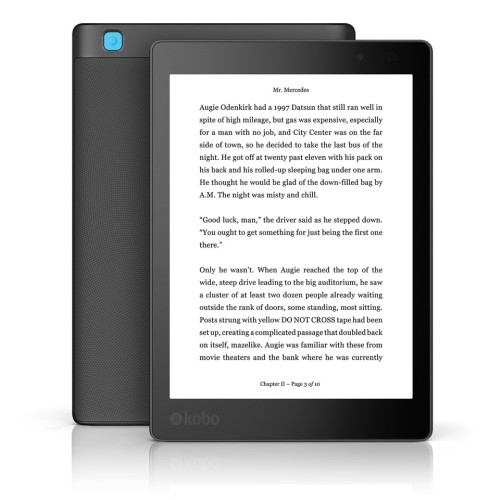 Kobo Aura One e-Reader Features and Specs
Display: Kobo used a 7.8 inch E-Ink Carta 2 display which has a resolution of 1872 x 1404 and 300 PPI that means it directly comes into features' war with the Kindle Oasis. The company has used flush screen because the new front-lit LED display bleeds less thus giving the best user experience for reading.
Processor and RAM: We all know the processor is the heart of any device while the RAM acts as the strong arms for multitasking. Beneath the simple looking e-Reader, Kobo Aura One e-reader has a powerful 1 GHZ processor which is coupled with 512 MB of RAM.
Internal Flash Storage: It has 8GB space for saving e-books or Kindle books. But there is no option for expanding the flash storage via SD card.
# In-built overdrive app: The new Aura One will feature an Overdrive app which will come as an inbuilt app with the device. You can use that for saving books.
# Water Resistance Feature: Think for a minute, if you get a water resistance feature in an E-reading device, will you grab that or not? Aura One features a similar one!!
Kobo Aura One Release Date
In Canada, it will showcase itself first. The release date of Kobo Aura One in Canada is 30th August!! You can preorder it directly from the Kobo's official website. On 6th September you can purchase Kobo Aura One in the US, UK, France, Germany, Netherland, Spain, Japan, Belgium, and Turkey via BestBuy.
In Australia, it may be available in October or November of this year while in Brazil and India, it may come in the month of March of the next year (2017).
Kobo Aura One price
The official price of the Kobo Aura One is tagged with $249.99. The price will not vary with the countries!!
What are you takes?? Will the Kobo Aura One be able to eat some shares of the Amazon's Kindle?? Join the conversation by commenting below.