With the launch of the awaited Samsung Galaxy Note 7 on August 2, 2016, the world can't wait to get their hands on the phablet. And once that happens, you will have to protect the brand new handset so that it remains as good as new. The Samsung Galaxy Note 7 is a successor of Note 5. Instead of being named Galaxy Note 6, Samsung decided to make a jump to Note 7 so that it comes in the line of Galaxy S7 and S7 Edge. Anyone purchasing the all new Note 7, you'd want to your expensive device to be durable. For which the handset will require some protection. The supply of cases can be very limited at the time of launch. For the ease and convenience of our readers, we've have come up with this post of 10 best Samsung Galaxy Note 7 cases. Take a look. check out the best galaxy S8 case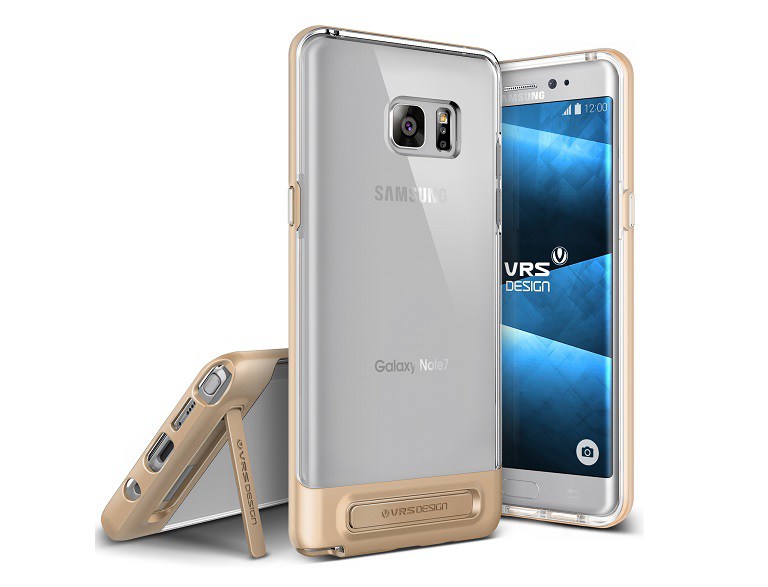 Caseology Envoy Series Case
Want a leather case that is animal-friendly? Caseology Envoy Series Case is a one you should be looking for. Of course, it's not made of real leather. The case has a rich pleasing look, but it's utterly inexpensive. It's super classy and comes in five color options – Leather Cherry Oak, Leather Beige, Carbon Fiber Black, Leather Green and Leather Navy Blue.
Highlights:
By the company's admittance, the smooth PU leather and soft coated bumper are as pleasing to the touch as they are to the eye.
Provides reliable protection owing to the TPU sleeve wrapped in artificial leather and durable polycarbonate bumper.
Spigen Slim Armor CS Card Holder
Out of the several wallet cases available in the market, we felt this is very convenient to use and therefore one of the best wallet cases available. The reason is that most wallet cases make room for credit cards etc, but it makes the case bulky when placed in the pocket. In the Spigen Slim Armor CS Card Holder, the cards are placed in a special compartment built into the back of the case.
Highlights:
Light and less bulky that most wallet cases available in the market.
The case is pretty tough and is certified to meet military-grade drop test standards. So the case can withstand small falls with the device nestling safely inside.
SUPCASE Unicorn Beetle PRO
We have come up with a decent option for folks who are looking for a rugged case at low cost. The case has got all the ports covered but note that its note water-resistant. The user won't have to worry about dust and debris blocking the port. The dual layer construction of the case makes it better shock-resistant.
Highlights:
The case sports a belt clip holster that'll help you mount your Samsung Galaxy Note 7 on the belt.
It's built for heavy use in demanding condition like outdoors while working, traveling, or doing some activity.
VRS Design Native Diary
Since the market is full of TPU and polycarbonate cases, it is difficult to come across a good inexpensive leather case. But this one is very convenient for Note 7 users who are looking for a cheap leather case. It's very good looking and comes with a front snap with a magnetic closure. Inside there are three pockets for cards. Comes in three color options – Black, Coffee Brown, and Wine Red.
Highlights:
The case is made of premium genuine leather that covers the front and the back.
Engineered with detailed precision, the case comes with precise cutouts that give full access to ports and buttons.
FYY Colorful Series Slim Fit Case
The series comes with an off-beat design. The cases look trendy, in a feminine, flirty manner. The floral cases are pocket-friendly, slender and promise not to weigh down your pockets or make it seem bulky. The case offers four design options – Fashion-5, Pattern-16, Pattern-27, and Patter-36.
Highlights:
The TPU material used in the case is both flexible and durable.
According to FYY, the vivid trendy patterns are printed in two different layers inside to ensure a dynamic pattern design that will not fade, smear or become blurry over time.
Ionic ACTIVE Sport Armband
Want a hands-free experience with the all new Samsung Galaxy Note 7? Here is a case made to fulfill your desire. You can take your device with you while you're are running or jogging or hitting the gym. It won't weigh down your pockets because it'll be wrapped around your hand.
Highlights:
It's stretchable for the user's maximum comfort and protection.
Made of neoprene material, it provides both styles as well as comfort.
Oblique Naked Shield
The case is very clearly made so you can show-off your brand new device. Its pretty thins and is made by the company's special Air Spring technology and shock absorption technology. Although transparent, you have four hues to choose from – Clear, Blue, Rose Gold and Smoky Black.
Highlights:
Its ultra thins and has been manufactured in Korean and has been manufactured for highest caliber precision techniques.
Shock-Absorbing TPU Bumper protects your device from drops & falls.
Sparin Waterproof Case
There are some high-end waterproof cases, and Sparin Waterproof Case tops the list of such cases. Let this case cover your phablet and you won't have to worry about taking your device at the beach or a ride on a boat, or basking in the sun on poolside. The case has a simple, clean look.
Highlights:
The case comes with a neck tie if you want to carry it conveniently.
The innovational PET membrane screen ensures ultimate clarity and touch-screen accuracy.
The case provides full protection and keeps the handset safe when submerged to over 9.8 ft deep (level IP68) water.
Ringke Max Note 7 Case
The Ringke cases are cool and very bold looking thanks to the colors they use. The handset comes with Anti-Slip sides with comfort grip and precisely tapered cutouts owing to the Touch Active Technology. Built with, the Dual Layer Technology, the case provides double protection from scratches, bumps, and falls.
Highlights:
The interior is specifically designed with Shock Absorption geometric pattern with heat reduction (which is likely to happen when the device is being used).
The case comes with 4-Point Rear Guard, which is a specialized 4-point rear defenders keep device elevated from a flat surface to keep your device safe and protected.
i-Blason Transformer Kickstand Case
The i-Blason Transformer Kickstand Case comes with a sports design and dual layer protection. It features an enforced shock absorbing inner sleeve that keeps your handset safe from falls and bumps during work, or travel.
Highlights:
Comes with a side-mount holster that secures your phone in place using a click-lock mechanism.
Precise cut and design allow easy access to all ports, sensors, speakers, cameras.
Wrap Up:
These are just about the best Samsung Galaxy Note 7 cases available in the market right now. We have provided a mixture of cases, ranging from rugged, to cheap, from cool to clear ones. These are made from latest cutting-age technologies best suited for regular use. Hope you found our recommendations handy.