The much talked about Google's upcoming Nexus device, Sailfish, allegedly get listed on AnTuTu and Geekbench for benchmark testing. And the test results on both the websites indicate the smartphone will be housed with 4GB RAM and 32GB internal memory. Not only that, but the leak also suggests the handset will be powered by Qualcomm's latest Snapdragon 820 processor coupled with Adreno 530 chipset. According to various reports, HTC is currently working on two new Nexus projects, codenamed Sailfish and Marlin, and both the handsets smartphones will run on Android 7.0 Nougat.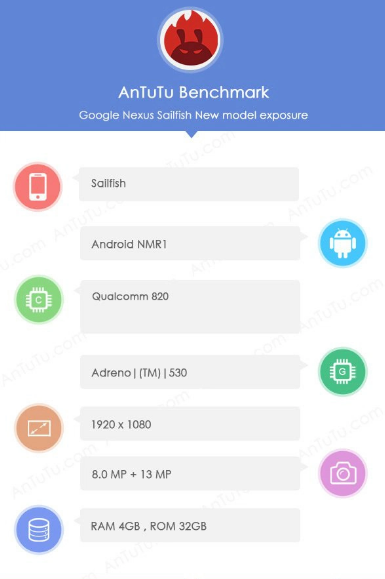 Sailfish was up for the benchmark testing last week by GFXBenchmark, and on that testing too, the result showed that the device is going come with a Qualcomm Snapdragon 820 clocked at 2.1 GHz. Moreover, the GFXBenchmark report also indicated that the Sailfish device would also flaunt an 11-megapixel rear camera which is capable of recording 4K video. The phone will also feature a front camera of 7-megapixel and will include many modern day sensor options such as barometer and pedometer.
However, the only difference lies in the AnTuTu benchmark testing, and GFXBenchmark testing is on the camera aspect. The leaked Antutu benchmark testing image showed that the Nexus Sailfish device is going to sport a 13-megapixel rear camera and an 8-megapixel front snapper. But both the benchmark testing image reiterates that the device will come with 1920×1080 full-HD screen resolution and will run on Android's upcoming Nougat OS.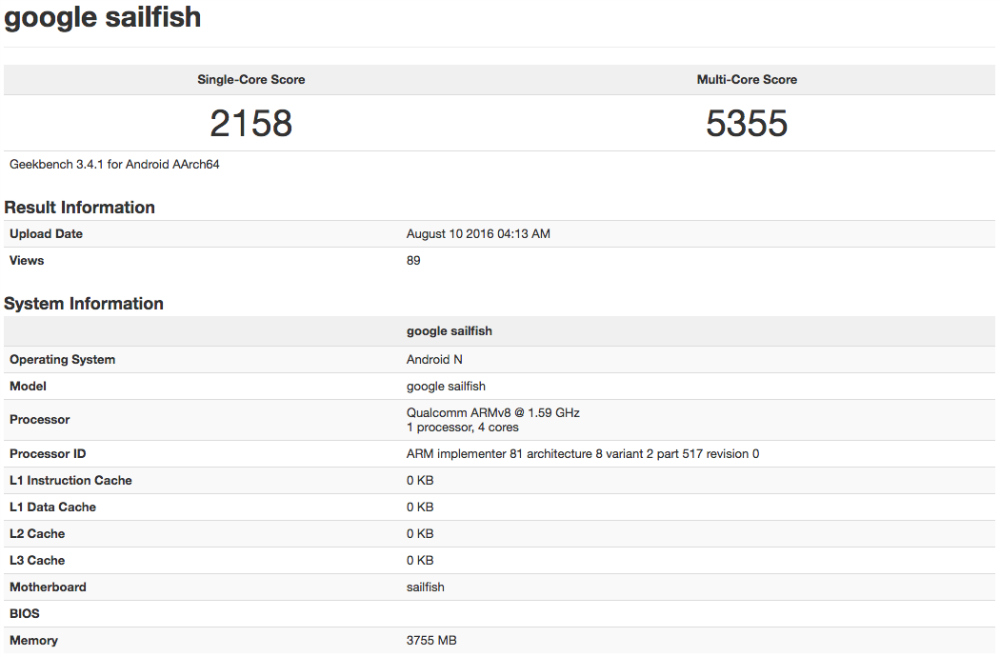 In the Geek bench benchmark test, the Google Nexus Sailfish device has scored 2158 for Single-core, and 5355 for Multi-core memory performance. The reports also claim that the handset will be powered by a 2,770mAh battery.
The other Nexus device, Marlin is reported to be more powerful as well as larger than Sailfish. Marlin is going to be the next phablet of the company. Google also claimed that both the device would come with a neater, slicker and cleaner design than the current flagship Huawei Nexus 6P as the present camera hump will be removed from those upcoming devices.
The Google Nexus Sailfish and Marlin devices are expected to be unveiled in September-October time frame, most likely on 4th October. Although the CEO of this multinational technological giant, Sundar Pichai has given the hint the past that Google will continue working with OEMs and could feature more software customizations with Android on the upcoming Nexus devices. So the speculations are Google Nexus Marlin and Sailfish won't be launched with just pure Android.