Google's new integrated chat platform, Allo, will roll out for users this very week, claims reputed leakster Evan Blass. According to Blass's tweets from today, Google's minimalistic new chat app that has been testing for a while will be launching soon, with its tentative release date being September 21.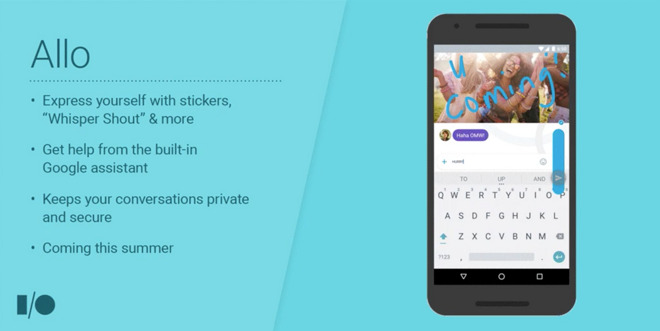 Allo was announced at the Google I/O conference this year in May along with Google's new simplified video calling app, Duo, but while the Duo has been up for use for quite some time, the Allo had been in the pipeline. The text messaging app is supposed to be complimentary of Google Duo and is an attempt by Google to take on existing messaging apps such as WhatsApp, Snapchat, Skype, and FaceTime. Google also seems to have combined and implemented several features of these existing apps with the hopes to create an able competition to sweep the market, and some leaked information had highlighted the pros and cons based on a preview test version earlier.
Just like its video calling counterpart, Allo requires users to be registered with their phone number to look for other contacts who are using the app. Allo has an inbuilt Smart Reply feature which learns over time owing to Google's AI and will show suggestions which will be in context to the conversation. The Smart Reply feature will also work with photo messages, where users will get suggestions based on the content of the photo that is received.
One of the most interesting features of Google Allo is Google's machine-learning assistant called Google Assistant, a Siri-like feature that is able to talk back to users. This means that users will be able to chat with Google Assistant within the Allo. The app will also feature an Incognito mode (like in Google Chrome_ that will encrypt all chats end-to-end with unique identity keys set for each participant. Allo will also allow users to make changes to static pictures within the app by annotating them. Other features of the Allo include the ability of users to set an expiration time on their messages (much like Snapchat) and exciting sticker packs among other things.
Much like Google Duo, Allo too will be available across iOS and Android platforms.