Qualcomm Snapdragon 653: China's Weibo, home to many leaks and rumours, has emerged with new leaks of Qualcomm Snapdragon 653. These leaks have thrown some light on the possible specification of Qualcomm Snapdragon 653 (MSM8976Pro) chipset. If the leak is true then it looks like the company is prepping for the launch of an improved variant.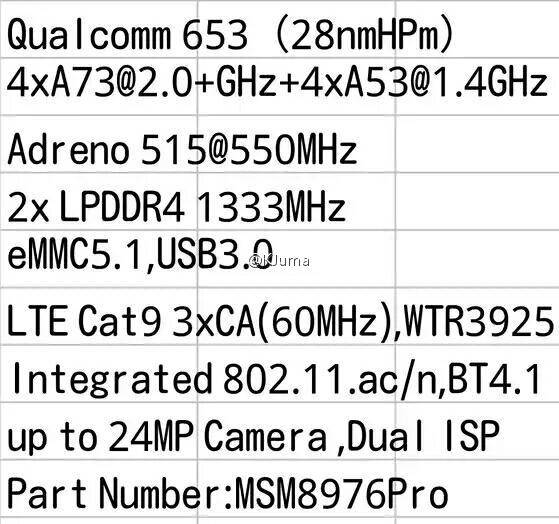 The successor to the Snapdragon 652 octa-core chip that powers many flagships models in the market, is believed to have the model number MSM 8976 Pro. This signifies that its an upgrade over the Snapdragon 652 which is the MSM 8976. The chipset has a 28nm high-performance mobile (HPM) octa-core chipset, 4 power efficient A53 cores which can be clocked up to 1.4GHz with 4 ARM Cortex A73 cores clocked at 2.0 GHz max.
ALSO READ: Dell Technologies Inc. to Cut at least 2000 Jobs after EMC Deal
Qualcomm Snapdragon 653 (Probable) Specifications:
Part Number: MSM 8976 Pro
Process Technology: 28 nm HPM
Cores: 4 x A73 @ 2.0GHz + 4 x A53 @ 1.4GHz
GPU: Adreno 515 @ 550MHz
Memory: 2 x LPDDR4 RAM 1333MHz
Storage: eMMC 5.1
Port: USB 3.0 (micro)
Connectivity: LTE Cat 9 3 x CA (60MHz)/WTR3925
Wireless: WiFi 802.11ac/n, Bluetooth 4.1
Camera: Up to 24MP
Image Signal Processor: Dual ISP
The chipset supports up to 1333MHz frequency that can handle the graphics through an Adreno 515 GPU that will be supported by two LPDDR4 RAM. Other rumoured features include LTE Cat. 9 3 x 60MHz CA, Bluetooth 4.1, 802.11 ac Wi-Fi support, Dual ISP and 24-megapixels camera sensor support. Sadly, there's no support for UFS 2.0 or NVMe storage interfaces yet, which are much faster than eMMC 5.1. As for now, we can't verify the authenticity of this leak, so everything should be taken for a pinch of salt.