Reliance Jio Sim cards are still very difficult to obtain with a large number of people still striving to get their hands on this sim card which will allow them to gain access to unlimited 4g internet with mind blowing speeds as well as unlimited voice calls. Reliance Jio has quietly launched a new JioFi 4G wireless hotspot which is now being available in select cities in India.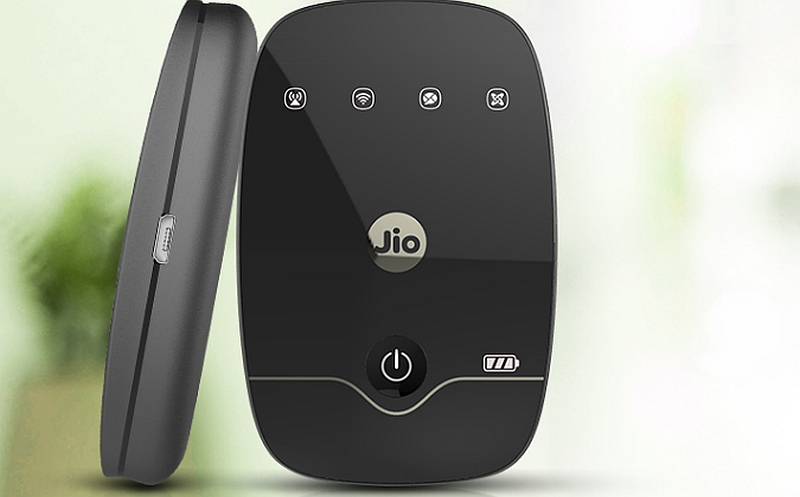 Reliance Jio's new JioFi is larger than its predecessor and sports a squarish shape with smooth edges. It has a sleek matte finish design, compared to the glossy egg-shaped original JioFi wireless hotspot. The OLED display is the most noticeable change made to the device which shows whether the device is powered on or not,  the amount of battery life left, the 4G signal strength, and Wi-Fi signal strength. The new version of the JioFi wireless hotspot has a 2600 mAh battery which is a compared to the older version which has a 2300 mAh battery capacity.
The Reliance JioFi 4G Wireless hotspot also allows users to use 4G LTE on your phone that doesn't support 4G through the Jio Join app. The app allows users to place calls and send messages through the JioFi. This device is an immensely useful entity if a single place has to be turned in t0 a wi-fi zone and can provide 5 hours of continued usage on a single charge and the battery  is rechargeable so charging the device while using it will be the optimal usage.
The Reliance JioFi 4G Wireless hotspot currently being sold in few cities in India at a price of Rs. 1,999.