Sony has finally entered the virtual reality race with its latest PlayStation VR, a headset the Japanese electronics group hopes will beat pricier rivals and revive its reputation as a maker of top-of-the-line gadgets. With a number of companies competing for the spot of the top virtual reality gadgets, Sony still has a lot of tough competition to match up to. Rival offerings in virtual reality headsets include Facebook Inc's $599 Oculus Rift and HTC Corp's $799 Vive. Sony hopes to lure in customers with its more modest price tag and by tapping the 40 million existing users of its flagship consoles – the headset is designed to plug into PlayStation 4, rather than requiring new equipment.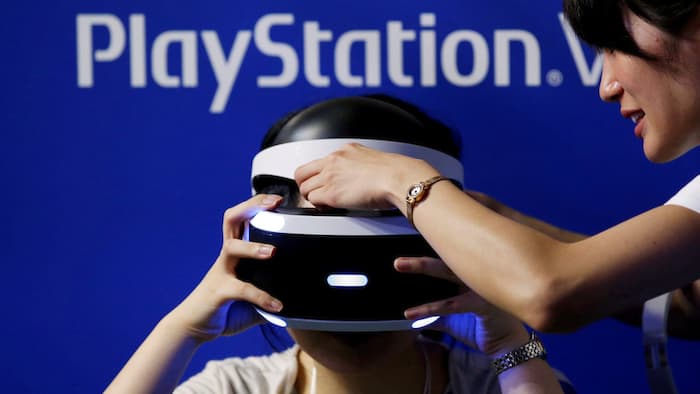 The gaming division is the biggest contributor to Sony's profits other than its financial business, and its strong performance has become even more critical as Sony's other mainstay image sensor business suffers from a slowdown in smartphone sales.
"In terms of visual experience at home, we believe this is the biggest innovation since the emergence of television."
-Atsushi Morita, President, Sony Japan and Asia
According to reports, a company spokesperson said that the PSVR will be available in Canada, Japan, Australia, New Zealand, the UK, Ireland, France, Germany, Austria, Switzerland, Spain, Portugal, Italy, Belgium, the Netherlands, Luxembourg, Poland, UAE, Saudi Arabia, Denmark, Sweden, Norway, Finland, Russia, the Czech Republic, Hong Kong, Indonesia, Singapore, South Korea, Taiwan, Malaysia, China, Thailand, and the Philippines. The VR will be priced at $399 and it is up for sale in the US from major sellers such as GameStop, Best Buy, Amazon, Walmart, Target, Sony Square (NYC) and Toys R Us.
Owing to the fact that the VR technology is still in its infant stages, Sony had promised a maximum of 50 games for PS VR by the end of this year, but only 30 of those are available.
The games available for the PS-VR are
Superhypercube
Thumper
Rez Infinite
RIGS: Mechanized Combat League
Batman: Arkham VR
Until Dawn: Rush of Blood
Battlezone
Driveclub VR
EVE: Valkyrie
Harmonix Music VR
Headmaster
Here They Lie
The Playroom VR
Resident Evil 7 Demo
Rise of the Tomb Raider: 20 Year Celebration
Wayward Sky